Gamer sends autographed XBOX 360 in for repairs, gets only smudges in return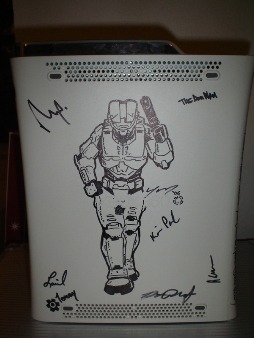 Sometimes you read something that just makes your blood boil, so I'm warning you now, if you have a history of high blood pressure, you may just want to walk away, because this is one of those stories. Here's the setup: Hardcore 360 fan Nathaniel pre-ordered his 360 months in advance, and has taken his favorite console to many gaming shows and has been fortunate enough to collect signatures from various gaming personalities along the way. He even coaxed Luke McKay of Rooster Teeth Comics to draw a kick-ass piece of custom Halo artwork on it. That's cool and great, but one day his beloved console breaks down. What happens next may shock and horrify you. Read on with caution.
Nathaniel isn't the type of guy that's going to let his favorite 360 sit around and collect dust, he actually wants to play it. So when it finally broke down, he got in touch with Microsoft to make sure that his signatures and artwork wouldn't get smudged if he sent it in, or that the console wouldn't be replaced altogether. The rep assured him that they would gladly take on the repairs and that his case would be virtually untouched.
So fast-forward to the day that Nathaniel receives his console back. He opens the box to discover that not only was permanent marker smudged in a couple of spots, but those tiny smudge marks were all that was left from two years of traveling to shows and getting signatures. Someone at the repair depot scrubbed the shit out of his case and made sure that it was clean as could be. Either the guy that worked on his machine spent the better part of an hour scrubbing the case with a vast collection of chemicals, or he swiped the original case and replaced it with one that bore a few smudges. Either way, Microsoft has some 'splaning to do, and owes Nathaniel something huge.
[via NextGen]