GAME-800 all-in-one takes new approach on handhelds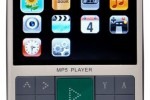 Well, this is different. The GAME-800 is an all new device that does just about everything you'd ever want a device to do. It's all-in-one feature list is pretty impressive, but how will it stack up to the competition? Does it even stand a chance?
This handheld doesn't make phone calls, but it can send and receive text messages, take and view photos and playback video. One thing that's especially cool about is the NES/GBA emulator for all of your old school gaming needs and the MP5 player.
It has surprisingly good specs for coming from an unknown, with 4GB storage plus a microSD slot for expansion. Other connections include a TV output, two 3.5-mm headphone jacks and USB 2.0. It also features a 3.5-inch QVGA display. And you know what? It's priced pretty decently at $69.99. So, it has some weird directional buttons that might be a bit awkward, but all in all, it looks pretty decent. 
[via technabob]