Gallery Go takes Google's photo management tools offline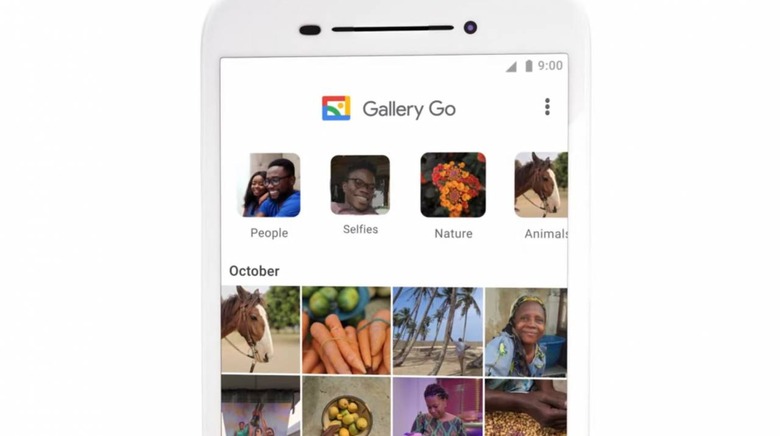 Google has already launched a range of lightweight apps meant for use in regions with limited internet access, and today it continued that trend by launching Gallery Go. More specifically, Gallery Go was launched by Google Nigeria as an easy to use, data-light photo management app. Despite that focus on using data sparingly (and taking up as little storage space as possible), Gallery Go is still packing some serious capability under the hood.
Google says that Gallery Go will only take up 10MB of storage space when you install it, which is made even more impressive by the fact that it uses on-device machine learning to organize your photos. Since machine learning is handling your photo management on-device, that means it uses less data than something like Google Photos and can even be used entirely offline.
Obviously, that means no backups to the cloud, but since this is meant for regions with limited internet access, that isn't necessarily a bad thing. Just like Google Photos, you'll also have a variety of editing tools at your disposal, whether you're looking to let Auto Enhance do the work or you want to fine tune things yourself by rotating and cropping.
Gallery Go also allows users to create folders for an extra layer of organization, and it supports SD cards as well, so you'll be able to offload your photos to an SD card and view them from there, keeping your phone's internal storage all freed up. All in all, it sounds like a pretty straightforward and simple app – nothing that's necessarily groundbreaking, but it's hard to complain about a gallery app that uses machine learning offline.
Surprisingly, Google Gallery Go is available worldwide – not just in the regions that would benefit most from an app like this. If you're on a device running Android 8.1 or later, you can find it now on the Google Play Store [download], though Google notes that some features – specifically the ability to organize photos by people – won't be available in all countries.