Galaxy Z Flip renders could have you wishing it will be more affordable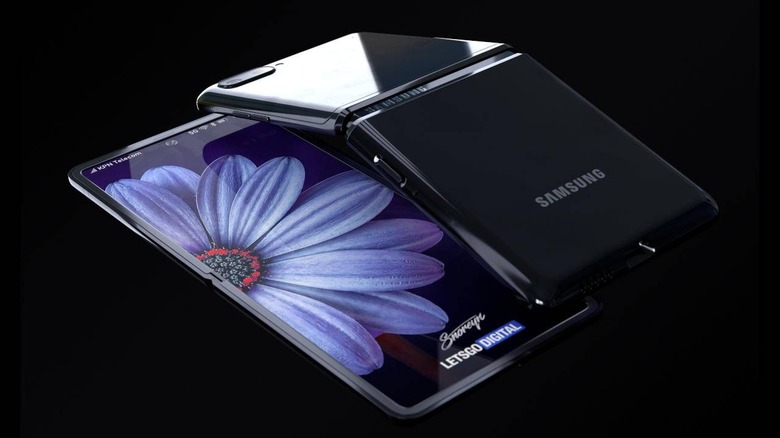 The Galaxy S20 is undoubtedly the focus of a recent flood of leaks but, come February 11, it will be vying for attention with its own sibling. The Galaxy Z Flip, previously known as the Galaxy Bloom and the Galaxy Fold 2, is also set to be announced on the same day and may even launch a lot earlier than the premium "normal" flagship. There's still no solid leak about its price but if the Galaxy Z Flip is as cheap as some seem to make it out to be, the Galaxy S20 could have some tough competition from Samsung's own ranks.
Granted, the Galaxy Z Flip won't stand a chance when it comes to a blow-by-blow specs fight. With a year-old Snapdragon 855, only two cameras, and a smaller front camera hiding beneath a punch-hole cutout, the foldable phone will look almost like a mid-range phone beside even the base Galaxy S20 model. That would be missing the point, though, because the Galaxy Z Flip is all about style that you can use.
The "Flip" in its name refers to its clamshell design, of course. If these renders from LetsGoDigital's newest 3D artist Snoreyn are even close to reality, that name doesn't do it much justice. The Hideaway Hinge really does look almost invisible and the small notification screen and even the dual cameras work to give it a sleek, minimalist look that perfectly compliments the all-screen design inside.
Of course, these are just renders and reality will most likely be a bit disappointing. There will most likely be concerns about the screen's durability and the crease that forms at the fold. Samsung will try to calm those fears by talking a lot about its use of Ultra-Thin Glass or UTG instead of the polyimide plastic or PI it had for the Galaxy Fold.
All in all, this doesn't sound like a smartphone that will cost less than $1,000, which should be the starting price of the Galaxy S20's lowest configuration. It will hopefully cost a lot less than the Galaxy Fold's $2,000 but don't keep your hopes up for an extremely affordable stylish foldable from Samsung any time soon.