Galaxy Z Flip folding smartphone appears in hands-on video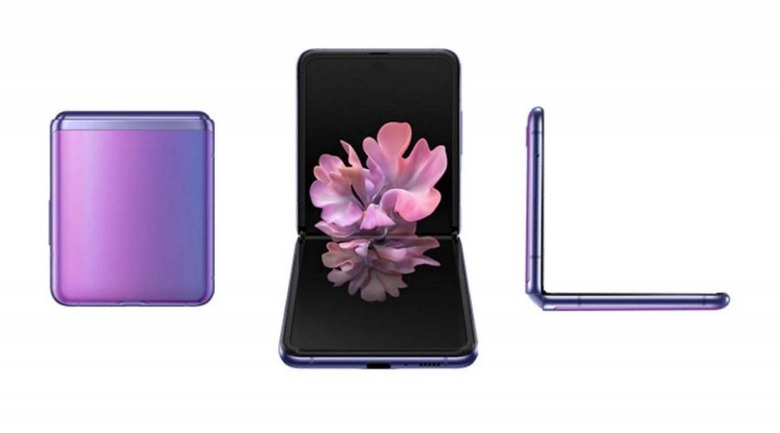 The anticipated Galaxy Z Flip smartphone has appeared in a hand-on video that shows the handset when it is closed and fully open. As with its Fold sibling, the unannounced Galaxy Z Flip features a flexible OLED panel that enables the phone to fold in half. Unlike the Fold, however, this handset transforms from a typical smartphone into a small clamshell model.
There's little doubt that folding phones are the device of the future, something arguably necessary in light of the increasingly massive phone screen size. Folding smartphones will be considerably different than their flip phone ancestors, however, offering an all-screen experience with the same capabilities (and more) as their non-folding counterparts.
Samsung Galaxy Z Flip – First Hands On Video pic.twitter.com/4b8Uzt5kRB

— Ben Geskin (@BenGeskin) February 2, 2020
Unlike the Galaxy Fold, which is akin to a small tablet when fully opened, the Galaxy Z Flip is expected to look more like a Galaxy S10 that can fold in half horizontally, meaning it'll look somewhat like a sealed square when closed. This design offers the typical phone experience with the added benefit of screen protection (without a separate protector) and a small, more pocket-friendly size.
We've seen the Galaxy Z Flip appear in an increasing number of leaks in the weeks leading up to Samsung's Unpacked 2020 event later this month. The model is expected to feature a 6.7-inch display, stereo speakers, and support for wireless charging. However, the phone isn't expected to be offered with 5G support, which may be a dealbreaker for some if the alleged $1,400 price tag proves true.
Ben Geskin published a tweet on Sunday showing a brief hands-on video of the Galaxy Z Flip phone, which does indeed look like a large Galaxy smartphone that simply folds in half. Dual cameras are visible on the back of the handset, which seems that it may have some sort of magnetic latch to keep the phone closed. There's also a small LCD on the back of the phone that shows the date and time when the handset is closed.
Samsung is expected to announce the Galaxy Z Flip folding smartphone at its Unpacked event this month.