Galaxy Tab S6 renders emphasize odd redesign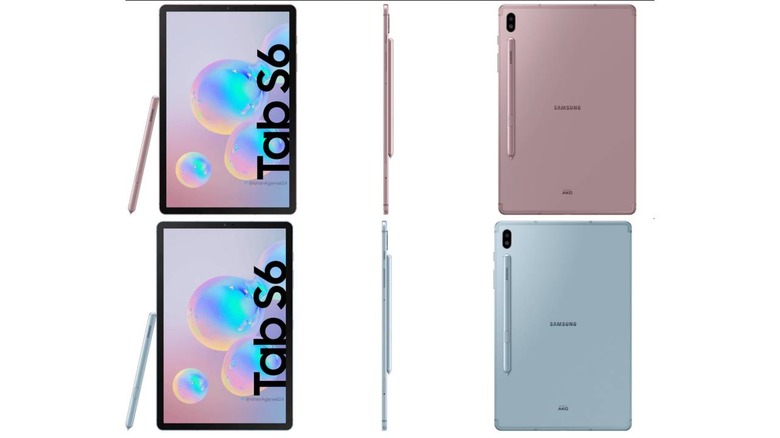 As far as features go, the Galaxy Tab S6, Samsung's actual flagship tablet, might not anything exciting to offer. In light of the somewhat controversial Galaxy Note 10 and the high-profile Galaxy Fold, it could ver well be one of Samsung's most boring premium products this year. And yet it is making rounds on the Internet and not for a good reason. Samsung has introduced on important design change that could sour the tablet for some fans.
To be fair, the Galaxy Tab S6 does have one other unique feature that makes it stand out from any other tablet. It would be the first of its kind, at least as far as consumer tablets are concerned, to have dual cameras. Specs for those two are still unsettled but, whatever their quality, it still raises the question of whether people will want to use it for taking photos.
Samsung has made a seemingly small but important change to the back of the tablet. It has added a groove at the side of the tablet that will magnetically hold the S Pen. This theoretically solves the problem of losing the S Pen which has grown to become too big to stow inside the body of the tablet.
Have some exclusive images of the Samsung Galaxy Tab S6 for you all (not that there's anything left to see)! It has a really bad S-Pen Placement, IMO. But yeah, the colours seem good: Gray, Pink and Blue. Reply/DM if you want individual images for any article or stuff. #TabS6 pic.twitter.com/JoNprmyRQ9

— Ishan Agarwal (@ishanagarwal24) July 26, 2019
Without the S Pen on the body, the back does look incomplete and almost ugly with an indentation. With the S Pen, it looks unbalanced and won't lie flat on surfaces. It might prove unpopular for those with strong aesthetic tastes but it might be a life saver for those who have lost an S Pen before.
It's not yet known whether the groove will also charge the S Pen, which would also be a first for the Galaxy Tab S line. That would, however, mean that this S Pen would have the same capabilities Samsung introduced in the Galaxy Note 9, allowing the use of the stylus as a remote for different applications.