Galaxy S7 Snapdragon 820 benchmarks show marked performance improvement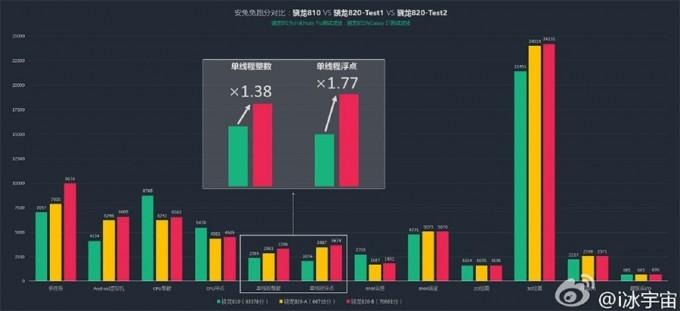 When new versions of popular smartphones come to market buyers expect all around performance improvements and if the latest leaked benchmarks for the Samsung Galaxy S7 are accurate, that is exactly what buyers will get. The leaked benchmarks have turned up in chart from a Weibo user called "I Ice universe". The graph shows a Snapdragon 810 in green.
The orange and red stripes are claimed to be two prototype Galaxy S7 devices. The orange column is 820-A with the red column being 820-B. The benchmarks are from AnTuTu and show that Snapdragon 820 performance has improved considerably all around for the prototype devices.
Presumably the column for 820-A is an older version of the Snapdragon 820 platform, but that is unclear. The 820-B version offers 1.77x improvement in performance for single thread integer and single threaded floating point tests.
The clear and marked improvement in the Snapdragon 820 chips between the two prototype devices leaves us hoping for more performance improvements ahead of the launch of the Galaxy S7. As always you have to take leaked benchmarks with a grain of salt, there is no proof that these are actually from Samsung devices. All the leakster offered was the benchmark image. We will certainly be on the lookout for more details on the Galaxy S7.
SOURCE: Gforgames