One of the biggest launches at MWC 2014 so far has been the new Samsung Galaxy S5 smartphone. We spent some hands-on time with the Galaxy S5 yesterday and found it to be a very interesting device. At the show, the S5 that was shown off uses a Qualcomm processor with four cores.
That probably left some fans of Samsungs own Exynos processors wondering where the version with the Samsung heart was. Samsung has posted an infographic that shows the progression from the original Galaxy S with its single core 1GHz processor up the ranks until the Galaxy S5.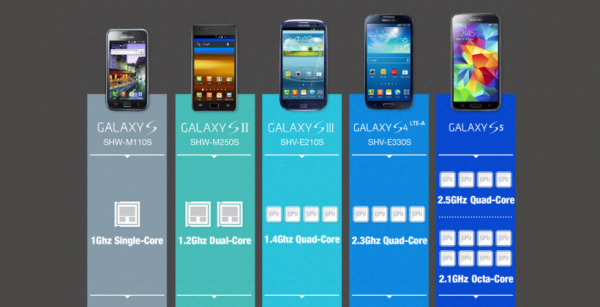 Under the little pic of the Galaxy S5 two processors are shown with one being the 2.5GHz quad-core unit that was in the smartphone at MWC 2014. The other is an eight-core 2.1GHz processor. The one thing that the infographic doesn't mention is who the chipmaker is for the 8-core unit. In the past Samsung has offered versions of the Galaxy S series running Qualcomm hardware and others running its own Exynos, presumably that is the case this time out as well.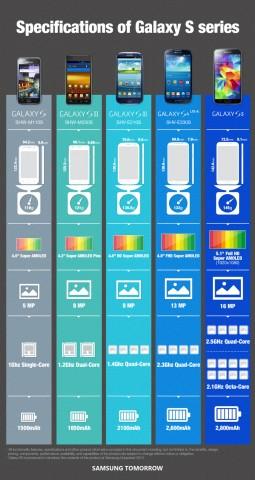 Another infographic from Samsung also runs down the specifications of the entire Galaxy S series from beginning to end. Samsung and the smartphone world in general have certainly come a long way with specifications and performance over the years.
SOURCE: Android Community