Galaxy S20+ photos confirm the name, brings some bad news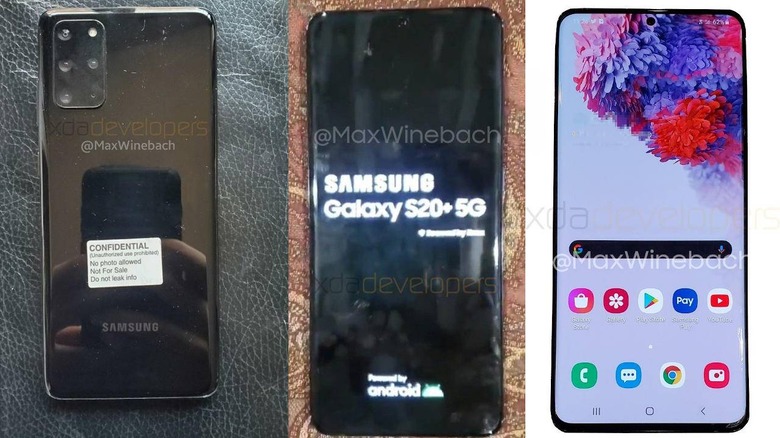 Given that there's barely a month before Samsung's Unpacked 2020 event, it's highly likely that mobile news will be filled with last-minute tips and leaks about the Galaxy S20. Yes, that will apparently be the name that Samsung will be going with, for better or worse, and there is now at least one unofficial real-world photo that confirms that. Unfortunately, the leaks also bring some bad news for those hoping for the best of the best components in at least the Galaxy S20+.
So far, the Galaxy S20 name has been dropped through word of mouth coming from credible leak channels but there has always been some doubt about the rather superficial marketing change. The final word will, of course, happen on February 11 but XDA has gotten a few live photos of the device ahead of that, one of which shows the bootup screen for the Galaxy S20+.
Specifically, the device shown is the 5G version of the Galaxy S20+ and the site posits there will be 4G and 5G versions for each of the three models. That despite all of them bearing either the Snapdragon 865 or the Exynos 990, both of which come with 5G modems built-in. Of course, you might be able to buy a 5G Galaxy S20 but if your market has no 5G coverage, you still won't get the benefits.
The name isn't the only thing that has changed, however. According to the source of the photos, the Infinity Display looked and felt flatter than previous Galaxy flagships, using Samsung's previous 2.5D design rather than the most recent very curved edges. Why that is the case is still unknown but perhaps could be explained by another disappointing turn of events.
The Galaxy S20+, despite the name, is actually the "middle" model with the Galaxy S20 as the base configuration. Neither of these two will have Samsung's expected high-end custom 108 megapixel sensor and will simply have 12 megapixel cameras that are slightly newer than the ones from 2019. The slightly good news is that the Galaxy S20 Ultra will most likely have all those premium features but will also fetch a premium price as well.