Galaxy S10, S10+ renders, colors leak to show off new design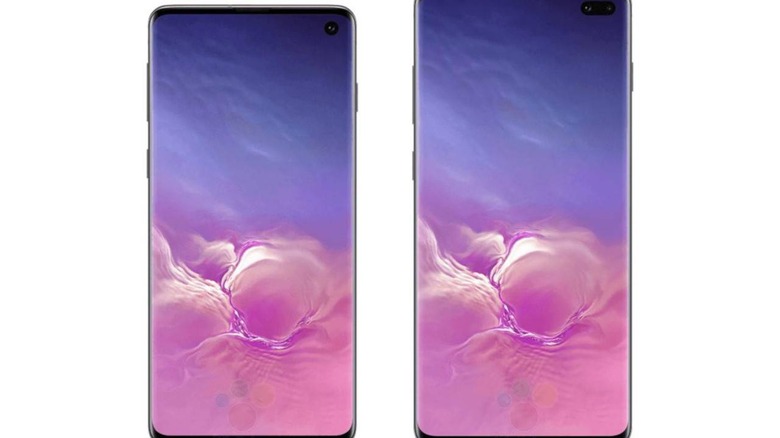 With less than a month before they hit the stage, the Galaxy S10 and Galaxy S10+ are naturally getting all the attention they can grab. At this point, it seems that very little will surprise us, though rumors are always rumors until verified by the actual announcement. While most of what we've heard talked about what would be inside the smartphones, only a few talked about what they would look like. Now we not only have what are allegedly the official PR renders for the two smartphones but also the marketing names for their colors.
No matter how "official" they might be, always take renders with a grain of salt. As Lenovo once proved, renders don't always reflect reality and may sometimes even sugarcoat it. For example, they don't always show the real size of bezels, though at least these images from WinFuture's Roland Quandt admits there's still quite a bit of chin at the bottom.
Almost no forehead, though, but there's still a very thin strip, possibly for other sensors. The cameras, as leaked time and again, sit in the punch or pill hole on the upper right corner of the screen. In addition to the size difference, these front cameras are the only two visible differentiating factors between the Galaxy S10 and Galaxy S10+.
On the back, both smartphones sport the same triple cameras, now arranged horizontally. Of course, the fingerprint sensor won't be found there, as it is hidden underneath the Super AMOLED screen. The side edges of the phones retain Samsung's usual design, including, unfortunately, the Bixby button.
Just a few li'l tidbits:
S10E 6/128GB Prism Black, Green, White, Canary Yellow
S10 6/128GB, 8/512GB Prism Black, Green, White, Blue
S10+ 6/128GB, 8/512GB Prism Black, Green, White, Blue
S10+ 12GB/1TB only in Ceramic White or Ceramic Black https://t.co/O44I4VHGSU

— Roland Quandt (@rquandt) January 31, 2019
Quandt also confirms and names the colors for the smartphones. All models will be available in Prism Black, Green, and White, but only the Galaxy S10 E (formerly "lite") will have Yellow while both the Galaxy S10 and the Galaxy S10+ have Blue options. The outlier, however, will be the premium Galaxy S10+ with 12 GB RAM and 1 TB storage, whose colors will be called Ceramic Black and Ceramic White.