GALAXY S 4 abandons original Samsung-made NFC tags for second-gen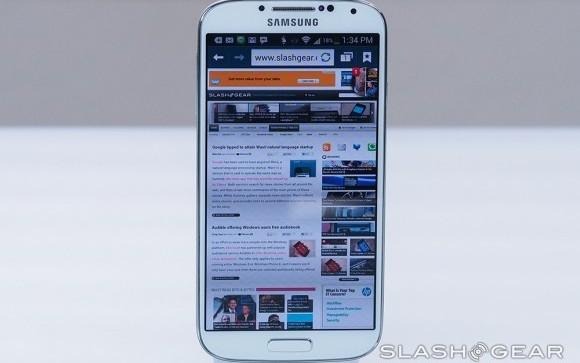 It seems that the Samsung GALAXY S 4 now uses a BCM2079x NFC controller instead of the NXP PN544 NFC controller, making it incompatible with the original Samsung TecTiles. The current TecTiles are MIFARE Classic 1k tags, which are unreadable by the BCM2079x controller, meaning that those of you who plan on getting a GALAXY S 4 and want to use TecTiles will have to replace your current tags with Samsung's upcoming TecTile 2 tags.
Samsung stated that it will be introducing the next-gen TecTile 2, which is set to be released within the coming weeks. TecTile 2 will be using the standard NFC Forum tag types, which are readable by a variety of NFC-enabled devices, like the Nexus 4. Samsung says that TecTile 2 will also be usable by other NFC-capable Samsung devices currently on the market. In the statement it released, Samsung says,
"TecTile 2 will use the current NFC technology on the market, allowing Samsung customer to further incorporate NFC into their daily lives and to use with the latest Samsung Mobile products and services, including the GALAXY S 4. As industry standard continue to evolve, Samsung remains committed to meeting those standards and adapting its technologies if necessary."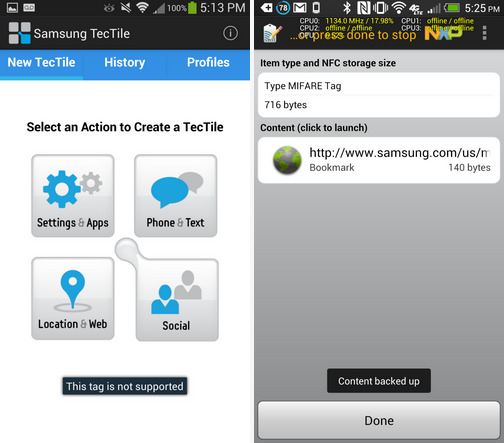 TecTiles are NFC stickers developed by Samsung. Using the Samsung TecTile's app, a user can program the tags before they are used. Users then place the stickers anywhere they feel convenient, such as their night stand. In order to active the TecTile's action, all the user has to do is place or tap their NFC-enabled phones onto the tag. There can be a variety of actions performed with TecTile tags, including setting alarms, switching a phone to silent mode, starting up media players, and more.
Luckily for current Samsung Galaxy S III and Samsung Galaxy Note II owners, TecTile 2 tags will still be usable with your device. Unfortunately for TecTile users looking to purchase the Samsung GALAXY S 4, you're going to have to replace your tags. While the pricing hasn't been released for the TecTile 2 tags, it should be relatively the same as the current TecTile prices. Samsung has taken down their TecTile's purchase page to prepare for the launch of its new tags. Also, if you're still deciding whether or not to purchase the Samsung GALAXY S 4, you can check out our review of the phone here to see if it'll meet your needs.
[via AnandTech]