Galaxy outs slick NVIDIA GTX460 with wireless TV connectivity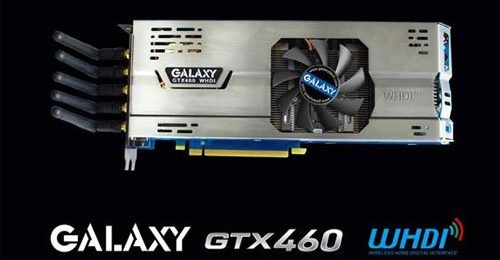 Galaxy makes all sorts of computer hardware and peripherals and part of the hardware the company makes are video cards for gamers and media enthusiast. The company has announced its latest video card called the GTX 460 WHDI Edition that is set to ship in October.
The coolest thing about this video card is that it is designed to connect wirelessly to a TV using an uncompressed connection. The latency of the card promises to be less than one millisecond making it appropriate for gaming. The card can also stream content to your TV like video, digital photos and more.
The five antennas sticking off the back of the video card send the content out to the TV to a small black receiver box that you connect to an input on your set. The video card doe shave local connectivity for a Pc screen as well with DVI and HDMI outputs. Pricing is unknown for the video card right now.