One leaked configuration of the upcoming Samsung Galaxy Note 4 phablet shows an unreleased Exynos 5433 processor. While that may sound rather unexciting, scores from AnTuTu has just revealed that this Samsung octa-core chip outperforms Qualcomm's top high-end processors.
Of course, after all that drama about benchmark cheating last year, everyone has become wary of benchmark tests. Nonetheless they still provide some interesting metrics and theoretical numbers. And in theory, the upcoming Exynos chip from Samsung will be leaving even Qualcomm's fastest Snapdragon 805 in the dust. The latter, which isn't exactly tremendously better than the Snapdragon 801 common on smartphones today, is the very same chip that powers the newly announced Samsung Galaxy S5 LTE-A in Korea.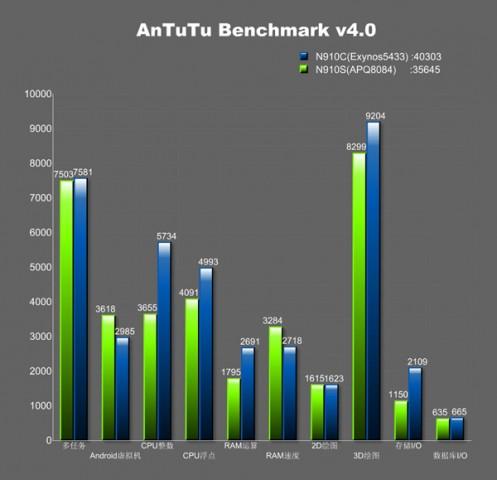 In this case, however, it was actually the same device that was tested. Or rather, two variants of the same device. The Galaxy Note 4 was also rumored to have a Qualcomm-powered variant, which is quite normal for most Samsung's flagships. So we have two devices with the same specs except for the processor, such as 3 GB of RAM and a 2560×1440 screen.
That last bit might be important to take note of if you try to include the NVIDIA Tegra K1 in the picture. NVIDIA's latest mobile processor runs circles around both Exynos and Snapdragon. However, AnTuTu noted that the test device for the Tegra K1 only sported a 1920×1080 screen, which requires less power to control than a QHD display. In terms of graphical prowess, The Mali-T760 that comes with the Exynos processor also performed better than the Snapdragon's Adreno 420, at least in 3D.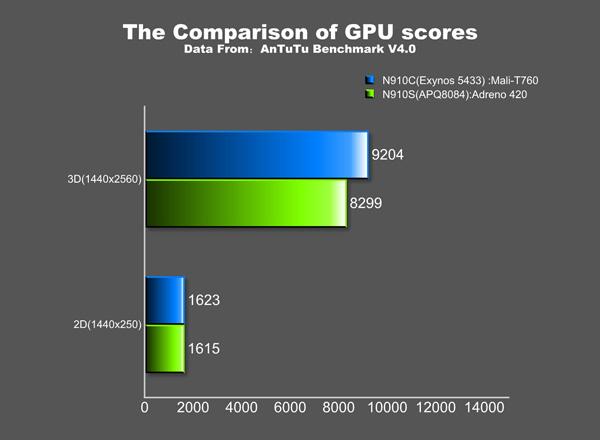 If that has left you craving for the Exynos 5433, as well as the Galaxy Note 4 that will carry it, do remember that market availability of the Exynos and Snapdragon variants differ. We will find out which markets will get which, or if Samsung has finally changed it game plan, when the S-Pen toting phablet gets revealed, most likely in September at IFA.
SOURCE: AnTuTu