Galaxy Note 10 Red and Pink now available in the US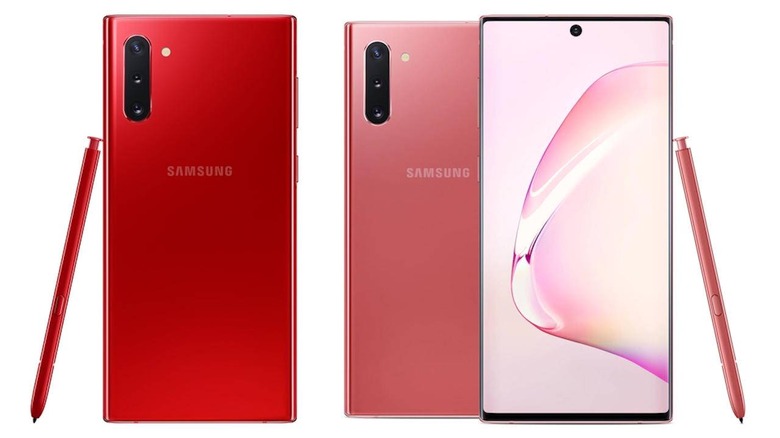 While other manufacturers, mostly from China, have started splashing a rainbow of colors on their phones' backs, major OEMs have remained faithful to single colors. Admittedly, the likes of Samsung and Google have started adopting hues beyond Gray and Gold but are still pretty conservative in their selection. That's why it may be a big thing for the Galaxy Note 10 to get new Aura Red and Aura Pink color options in the US, especially considering it could be for a limited time only.
The Galaxy Note 10 family, which includes the larger Galaxy Note 10+ and Galaxy Note 10+ 5G, are already available in a total four colors, including White, Black, Blue, and a rather subdued "Glow" gradient. Not all models have access to those colors, of course, and it seems like the base Galaxy Note 10 is getting the best deal in this regard.
As part of its pre-Black Friday campaign, Samsung is making available head-turning Aura Red and Aura Pink colors exclusive to the US. Not everyone will be able to get it immediately, however, only those who signed up for its pre-Black Friday early access promo. Everyone else will have to wait on November 21 at 12:01 ET to grab one, presuming there are still supplies left.
The colors aren't the only deal Samsung is offering. It is knocking off $300 from the regular $949.99 starting price of the Galaxy Note 10, bringing it down to $649.99. With an eligible trade-in, it could even go as low as $309.99.
Sadly, the offer seems to be available only for the Galaxy Note 10, leaving the other two models out in the cold. It's also unknown how much Samsung US has in stock, so those still on the fence about buying a Galaxy Note 10 might now want to think more deeply about their options.