Galaxy Fold 2 "Champ" to come with the first under-display camera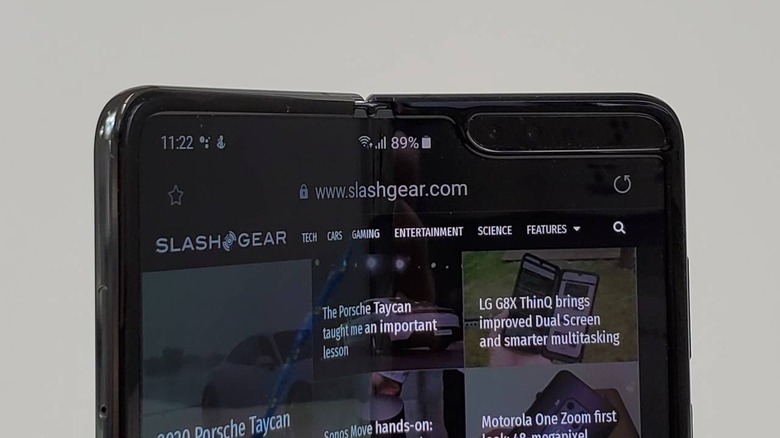 The Galaxy Z Flip just launched but it is also just Samsung's opening salvo. The company wants to sell more foldable phones this year, which means it has to make more foldable phones as well. The Galaxy Z Flip changed the formula a bit but the Galaxy Fold's true successor is still coming. Codenamed "Champ", not "Winner 2" as earlier leaked, this won't just be a repeat of last year's form with new Ultra-Thin Glass on top. It will bring its own innovation to the fold, no pun intended, and it will most likely push the price tag even higher.
The first Galaxy Fold's innovation was, of course, the foldable screen itself. The Galaxy Z Flip change the formula a bit but also introduced the now-contested Ultra-Thin Glass or UTG. The Galaxy Fold 2, whose commercial name is still unknown, will put those two together but it will need more than that to make a big splash.
That splash will apparently be an in-display or under-screen camera, one of the next most-desired feature in future phones. Samsung has already confirmed it was working on such technology but, as seen on the Galaxy S10 all the way up to the Galaxy S20, all it had to show are punch-holes. A report from Korea claims, however, that the under-screen camera technology will be ready later this year, despite Xiaomi's claims otherwise.
The next Samsung foldable phone will have the same form factor as the first Galaxy Fold, which means an "innie" that folds horizontally like a book. It will have a larger display, though, at 7.7 inches based on a separate leak. Whether it will have the same tall dimensions when folded and whether it will have another full-sized external display, neither sources say.
Even the name for the phone is still unresolved, other than the "Champ" internal codename. Samsung has apparently adopted the Galaxy Z brand for its foldable phones, which could lead to a change of name as well. What's certain at this point is that, with a large foldable screen, Ultra-Thin Glass, and under-screen camera, it will be Samsung's most expensive foldable phone yet.