Galaxy A90 video shows rotating popup camera trick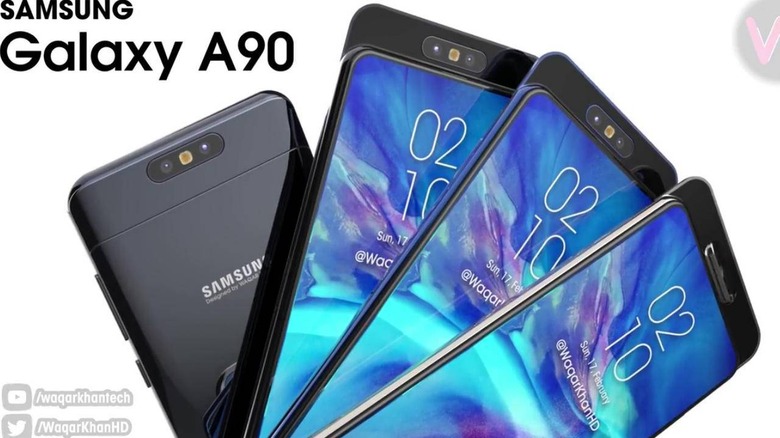 Next week, Samsung and OPPO will compete for the market's attention when both of them unveil their respective solution at solving the bezel problem. While the OPPO Reno has been leaked to have an odd uneven popup camera, the Galaxy A90 may have something that is more eccentric. It has been leaked from the start to have a popup camera that also rotates but no one has really been able to say how. Now a new video allegedly shows the multi-step process you'll need just to take a selfie with the Galaxy A90.
There have definitely been rendered images of the smartphone but static images don't really explain how moving parts, well, move. We've seen our fair share of popup cameras and one or two rotating cameras. We definitely haven't seen one that does both.
In a video created by YouTuber Waqar Khan, the Galaxy A90's gimmic comes to life. It all starts out innocently enough, with a phone that has dual cameras near the top of its back. There is a clear line that across the width where you can almost expect things will split but what happens next is probably something one expected.
That top portion of the back slides up like a slider phone such as the Honor Magic 2.0 but only that section and not the entire back. The front side of that section is pretty much blank except for what seems to be a pill shape that matches the back camera. Then lo and behold, that pill shape is the rear camera, which then flips to face forward.
The video seems to suggest that the flipping will be automatic when the top rises, presumably when you activate selfie mode in the camera app or other related activity. Prolific leakster @Ice universe hints that the video is "almost" completely correct. Whether it makes practical sense, however, is still an open question.