Galaxy A40 details fully revealed by Dutch retailer pre-order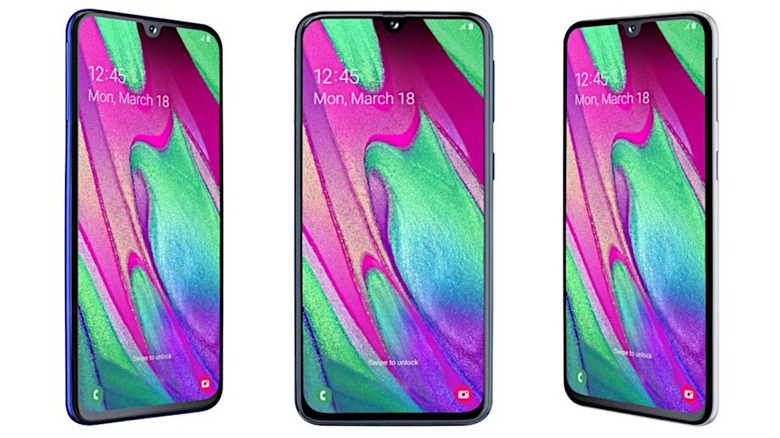 If this pre-order page is legit, then the Galaxy A40 might be really close to launching even before the Galaxy A90 debuts next month. That might be for the best as the Galaxy A90, if it indeed has a rotating popup camera, is bound to steal the spotlight. Judging by all the details now available, that might not be hard to do as the Galaxy A40 could be the most forgettable member of Samsung's Galaxy A series.
For a line that supposed to be on the cutting edge of innovation, the Galaxy A40 is as normal as can be. Granted, it's one of the very few Samsung phones with a notch, but it's also close to being a part of the new Galaxy M family in terms of specs. That translates to an octa-core Exynos 7885 with 4 GB of RAM and 64 GB of expandable storage.
Confirming yesterday's leak, the Galaxy A40 will disappoint some who hoped it has a triple camera setup. Dutch retailer Belsimpel's listing confirms it only has two, a 16 megapixel camera that's paired with what is probably a 2 megapixel depth sensor. At least the selfie camera has a whopping 25 megapixels, but no room for a flash or any 3D face recognition technology.
In a way, the Galaxy A40 could offer some sense of normalcy in a sea of eccentric features. It has a USB-C port but doesn't kick out the 3.5 mm headphone jack. The fingerprint scanner is also on the back, a typical optical one that's more reliable and secure than these newer technologies.
Given those specs, the 249 EUR ($280) price tag may sound a bit steep, but it's definitely on par with Samsung's pricing. The pre-order page doesn't say when the Galaxy A40 will ship but it does show that it will be available in Black, Blue, Coral, and White color options.