G4 leaks potential Rock Band 2 tracks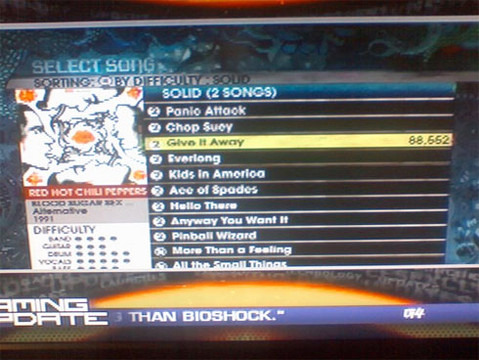 So how long after the announcement of Rock Band 2 did you think it would take for someone to leak a partial set list? Turns out we needed only a few days. The good folks over at G4 were kind enough to show a brief screen of the upcoming title with 11 tracks listed.
"Panic Attack" – Dream Theater (or Finger Eleven)
"Chop Suey" – System of a Down
"Give It Away" – Red Hot Chili Peppers
"Everlong" – Foo Fighters
"Kids in America" – Kim Wilde
"Ace of Spades" – Motorhead
"Hello There" – Cheap Trick
"Any Way You Want It" – Journey
"Pinball Wizard" – The Who
Those 9 are all new to Rock Band, while More Than a Feeling and All the Small Things are already available as DLC. I have to say with songs like Give It Away, Chop Suey and Pinball Wizard, it's a solid lineup.
Do bear in mind that with the game not coming out until September, there's a good chance some of these songs won't even be available. Remember Welcome to the Jungle? At least it gives us an idea of what to look forward to.
[via Joystiq]