G-Technology G-Drive Slim SSD USB-C Aims At MacBook Pro Users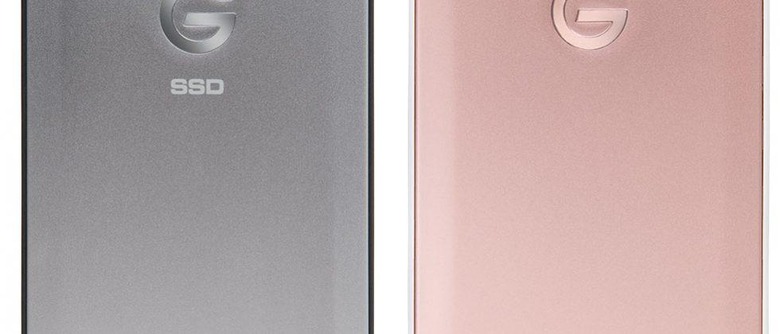 G-Technology is a premium storage brand owned by Western Digital and it has unveiled a new product called the G-Drive slim SSD USB-C. This drive brings faster data speeds and USB connectivity that will be perfect for users of the new MacBook Pro notebook with the USB-C port. The external SSD is offered in 1TB and 500GB capacities.
The SSDs offer performance of up to 540MB/s and uses the 10Gb/s USB 3.1 Gen 2 interface. The drive ships with a Type-C to Type-C cable and a Type-C to Type-A cable. Those cables allow the G-Drive slim SSD USB-C drive to operate with any computer using Thunderbolt 3, USB-C, or USB 3.0 ports.
"G-Technology continues to embrace advanced technologies in its line of products, and is excited to announce its fastest portable consumer storage solution to date," said Mike Williams, vice president, advanced technologies/G-Technology, Content Solutions Group, Western Digital. "The G-DRIVE slim SSD USB-C embodies our commitment to delivering products that offer exceptional performance, style, and reliability, while combining SSD technology with the latest USB-C interface ensures users will have the latest technology and performance at their fingertips."
The SSD isn't cheap at a price of 500GB for $229.95 and the 1TB drive sells for $379.95. The drive is available at G-Technology resellers with the space gray version as an Apple Store exclusive launching in early November. If you don't need the speeds that these SSD drives offer you can also get a rose gold G-Drive mobile USB-C drive that has a 1TB, 7200 RPM HDD inside with speeds up to 136MB/s. That drive sells for $119.95.
SOURCE: G-Technology