Fusion IO's io-Drive confirmed world's fastest SSD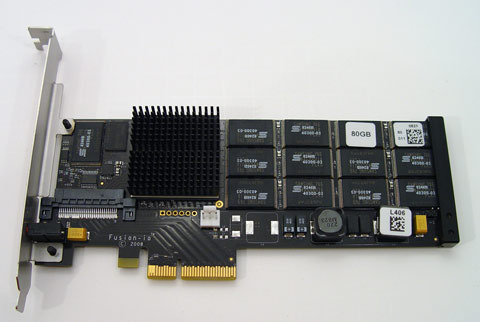 Intel claimed fastest SSD with the launch SLC-based X25-E Extreme, but there's a new kid in town proven to excel both the write and read speed of the Intel by a large margin. Folks at tweaktown has published an in-depth review of the Enterprise series Fusion-IO PCI-express based NAND flash storage; it posted an astonishing 470 MB/s reading and 353 MB/s average speed on HD Tune, about 2.5x (read) and nearly 5x (write) faster than Intel with results of 184MB/s and 73MB/s on the similar workbench. Forget Intel, Fusion is toe to toe with Seagate Cheetah 15.6k series SAS drives.
The key to the huge speed bumps thanks to the PCI-express bus interface instead of SATA ones as featured on the Intel. The direct-attached storage has 100 times the capacity density, and 10 times the capacity per dollar of DRAM, makes it the world's most advanced and cost–effective enterprise storage with SSD solution.
The shortfall of enterprise-stamped storage, as usual, is the unaffordable high price tag for end users. But if you have $3000 to spare, the 80GB version is all yours. Fusion has a trio of the new ioDrive in the capacities of 80Gb, 160Gb and 320Gb. The largest ones will set you back $14,400.