Funai preps tru2way dual-tuner set-top DVR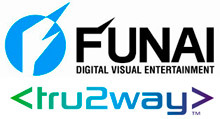 Funai looks forward to beat the godfather of DVR, step ahead of Tivo to launch tru2Way integrated dual-tuner set-top DVR. Announced back in May, the company exhibited its tru2way STB platform with DVR, dual decode, NTSC, ATSC and various network capabilities at the Cable Show in Big Easy; today, they have further confirmed its plan to mass-produce the tru2wy box during the third quarter of 2009, but the timing will hinge on CableLabs's approval.
The HDD-based DVR's version of tru2way box is prioritized, but the company may look into integrating the device with Blu-ray standalones or STB without hdd once they have granted the go-ahead from the CableLabs. Funai will showcase its tru2way DVR / set-top at the coming CES 2009.
A little reminder on tru2way technology, it's dual-communication device that enables set-top to access interactive digital cable video-on-demand and other interactive cable applications, without the need for a cable operator-supplied set-top box.
[via engadgethd]