Fujitsu's LogonDirector integrates windows sign-on in the palm of your hand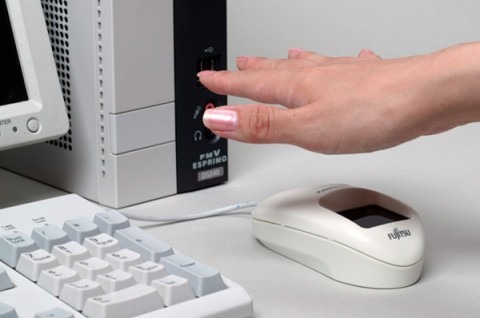 Retina scanning, face recognition and fingerprint reading are common biometric systems for physical security accesses or computer logon systems, and in recent years the latter has become more widespread in consumer products such as laptops or handheld devices. Fingerprint readers, despite being nearly ubiquitous on notebooks these days, aren't exactly popular mainly due to the concerns of public hygiene. Fujitsu's approach, palm vein scanning, on the other hand, is non-invasive and contactless scanning: PalmSecure advanced biometric authentication technology comes in the form of a standard PC mouse and offers highly secure and reliable personal identity verification. SlashGear caught up with Dan Miller, business development manager at Fujitsu, to find out more.
The PalmSecure biometric sensor does not register age-lines or anything like fingerprints, in fact it reads and records the unique vein pattern inside your hand. A near-infrared beam goes sub-layer into the palm of your hand, recording the unique patterns into a digitally encrypted file. Data is stored and secured with an in-house two-way encryption algorithm of up to 256 bits, or alternatively Fujitsu will let you apply the encryption method of your choice.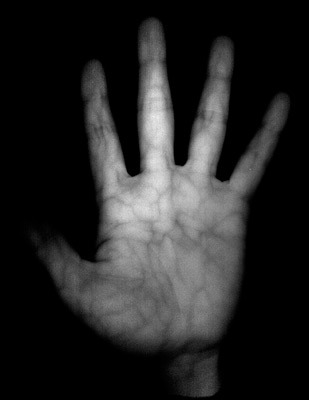 Its accuracy, according to Miller, far exceeds fingerprint scanning and is in fact up near iris and DNA levels, with just 0.00008 percent false acceptance and 0.01 false rejection. "It's a very highly accurate device which you can't forge" Miller explained, "and you're getting it at the fraction of the cost compared to an iris." The technology has been successfully implemented in various industries worldwide including banks, big-name corporations, healthcare organizations and, now, is expanding into the PC industry with the sensor built into the body of a standard USB mouse.
The PalmSecure's LogonDirector is designed to work with Windows based desktops and laptops, integrating with the Windows sign-on screen and replacing the standard username and password boxes with a palm-scan prompt. No password entering or card swiping is needed: with spread fingers, you just raise you palm a couple of inches above the mouse, then slowly bring it down. Within the space of an inch, the reader should be able to scan the veins and automatically log you right in. Miller says a single user authentication happens almost instantly, while large multiuser organizations, requiring database access, may require at least a second or more.
The hardware is a standard USB 2.0 PC mouse, and since it's bus-powered it doesn't require any sort of battery. When asked about an alternate wireless version, Miller said it's not currently on the roadmap.
In Fujitsu's defense, due to low demand in Vista deployment, large enterprises are still using XP thus the device currently only supports Windows 2000 and XP. Nonetheless, Miller assured us that Vista is definitely on the roadmap and, in fact, a new version supporting the OS should be released this quarter. Unfortunately he couldn't promise anything for Apple or Linux users. "Right now it's supporting XP; Vista is going to be out very shortly, this quarter. Apple and Linux are not on the target list yet" he continued, "down the road it is, but we don't have any dates yet."
The Fujitsu PalmSecure LogonDirector has a suggested retail price of $427 for the hardware and an additional $40 for the app. Standalone versions can be purchased with groups of 1, 10 or 25 user licences; meanwhile volume licenses are available for the Enterprise version, with similar pricing from 1 to 100 users. The Enterprise version includes additional management software, that requires installation on an existing server. That allows for centralized administrative and management control, letting large organizations manage palm vein patterns to an authentication server for more robust security and fine-tuned user privileges.
Right now, Fujitsu seem to be aiming resolutely at business and enterprise users – and with the hardware alone costing as much as an entry-level notebook, we're not surprised. However we'd expect the PalmSecure technology to filter down to consumer products relatively soon, given the benefits of palm-vein authentication over fingerprint technology.