Fujitsu notebook optical bay projector will cost EUR 499 starting July 1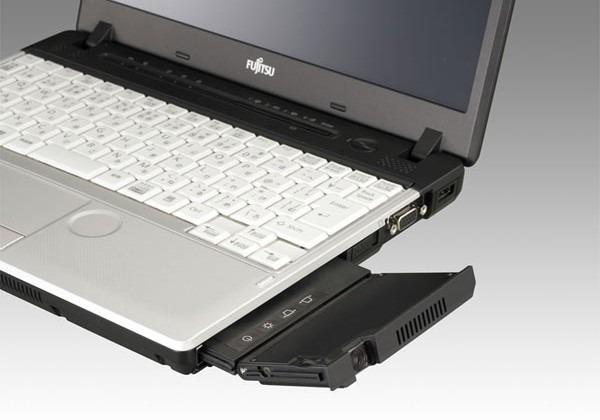 In the business world, the mobile pro knows that a notebook and a projector often go hand in hand when it comes to giving a presentation to a group of people on any subject. I have seen more than one business type schlepping a notebook and a giant projector case through an airport in my day, and I am sure none of them like having to do that. This is where Fujitsu comes in with that cool notebook with the optical drive bay pico projector that I wrote about in April.
Fujitsu says that starting in July you will be able to order that pico projector as an option on the Lifebook P771 and S761 notebook models. In April, Fujitsu also said that the projector would be offered as an option on the P711 as well. This time around, we have a few more details on the projector. It will have integrated buttons for brightness and keystone correction, and it uses laser tech to offer color depth and crisp, clear images.
The more interesting thing in the latest release from Fujitsu isn't that the pico projector in the drive bay will be on these notebooks. That we already knew about. The big news rather is that Fujitsu is also promising that the projector for the drive bay will eventually be offered for any Fujitsu notebook with a modular drive bay. The drive bay projector will ship starting July 1 and will cost EUR 499 with pricing varying by region.