Fujifilm's DSLR-style X-S1 coming to the US at $799.99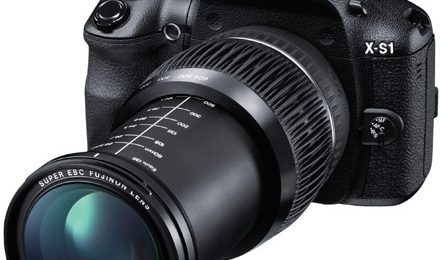 Camera-lovers, sports-fanatics or those who happen to be searching the internet for a new camera, gather around and read what Fujifilm has to offer. Fujifilm has just released information about their latest X-series camera, the X-S1. This DSLR-styled camera is equipped with with a versatile long-zoom lens housed in a lightweight body.
You can expect a fixed 26x manual zoom lens with a range of 24-624mm and an aperture range of f/2.8 to f/5.6, and a large 12 megapixel EXR CMOS sensor. With an impressive wide angle, long zoom and super macro capabilities all from a single lens, the X-S1 mimics a DSLR camera but in a single camera and lens body. The characteristics of the long zoom and macro capabilities will make for an incredible photographic experience. With a zoom ranging from 7cm to 1cm in Super Macro Mode you, too, can easily capture a single droplet of water falling off a leaf.
With a late-January ship date you will have adequate time getting to know the ins-and-outs of Fujifilm's X-S1 in time for your favorite spring or summer sports. At 7 frames-per-second (fps) at full resolution you can expect high speed continuous shooting with minimal shutter lag. No more worrying about missing those heart-stopping moments. Priced at $799.95 seems rather steep, but keep in mind, no extra lenses will be necessary, unlike traditional DSLR cameras.
[via Engadget]