Fujifilm X-T4 announced with in-body image stabilization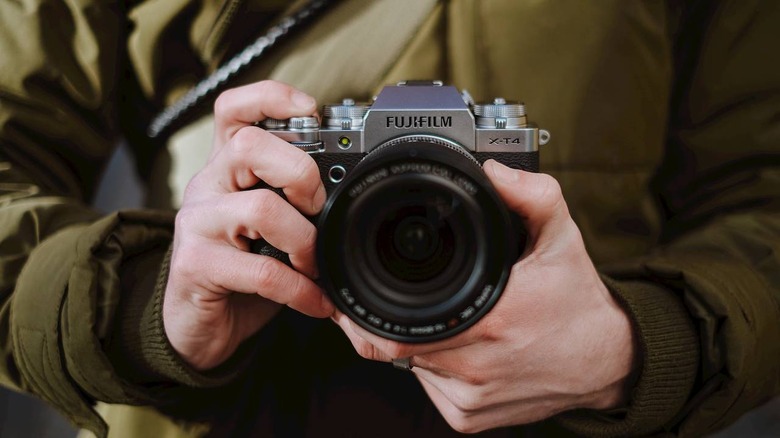 Today Fujifilm announced the X-T4, the next flagship camera in the X series. There's a lot of anticipation riding on this announcement, and the X-T4 has a number of features that may make it worth a look for photographers. Key among those big features is in-body image stabilization (IBIS).
More specifically, the X-T4 is capable of five-axis IBIS, which works in tandem with the camera's four-axis digital image stabilizer. With those two combined, Fujifilm says that the X-T4 will provide up to 6.5 stops of image stabilization, but that's only true when using "selected Fujifilm XF lenses."
The X-T4 will also feature a new X-Trans 26.1MP CMOS 4 sensor and a quad-core X-Processor 4, a combination that the company says will lend to images with wide dynamic range and fast autofocus. With its mechanical shutter, the camera will be capable of snapping 26.1MP images at 15 frames per second. That shutter is rated for 300,000 actuations as well.
The company says that the X-T4 comes with a larger battery – presumably compared to the X-T3 – but doesn't specifically say how big that battery is, only saying that it'll provide up to 600 frames per charge. Mileage will vary, particularly if you're making heavy use of the 3-inch LCD display, which can be hidden away during times when you only want to use the viewfinder.
As far as video is concerned, the X-T4 is capable of switching into movie mode, which allows for DCI 4K/60p and full HD/240p super slow motion recording. Finally, Fujifilm has added ETERNA Bleach Bypass to its lineup of film simulation modes, which will provide a "de-saturated, high-contrast look" to photos. We'll see the X-T4 launch in black and silver this spring, with a price tag of $1,699.95 USD and $2,199.99 CAD.