Fujifilm unveils sexy XF1 digital camera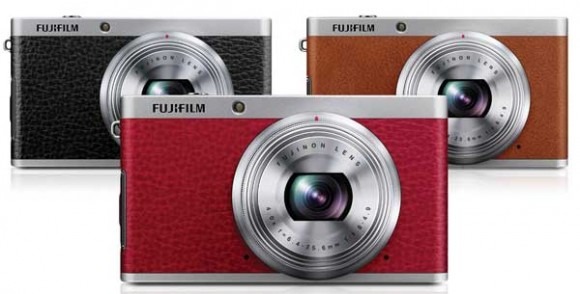 Fujifilm has been busy this month unveiling new digital cameras in its high-end X-series line. At the beginning of the month, Fujifilm unveiled the X-E1 interchangeable lens digital camera positioned to rival full-frame DSLR cameras on the market. Today Fujifilm has unveiled another new camera called the XF1.
Fujifilm is positioning the XF1 as a premium digital camera with a perfectly matched lens and sensor, high attention to detail on the materials and design, and more. It looks like Fujifilm is trying to channel a Leica vibe with the XF1. The new camera doesn't offer interchangeable lenses and uses a Fujinon F1.8 lens with four times manual zoom.
The camera has a large 2/3-inch 12-megapixel EXR CMOS sensor that Fujifilm promises will deliver extraordinary image quality. The camera will come in three different designs that vary in color with one having synthetic black leather, one having smooth synthetic tan leather, and another having synthetic red leather. The leather on all three models is offset by the silver aluminum frame of the camera.
Fujifilm expects to launch the camera in October at $499.95. The camera has three power modes, including travel with the lens fully retracted, standby where the camera is off but the lens is extended, and shooting mode with the camera ready to go. The camera features optical image stabilization, full manual controls, a three-inch rear LCD, and supports ISO 100-12,800. The camera can shoot full HD resolution video and promises 300 shots per battery charge. The camera also supports motion panorama for seamless panoramic shots and macro shooting. The camera also features a number of automatic and artistic effects modes.