Fujifilm unveils JX, JV, FinePix Z90 digital cameras for social networking mavens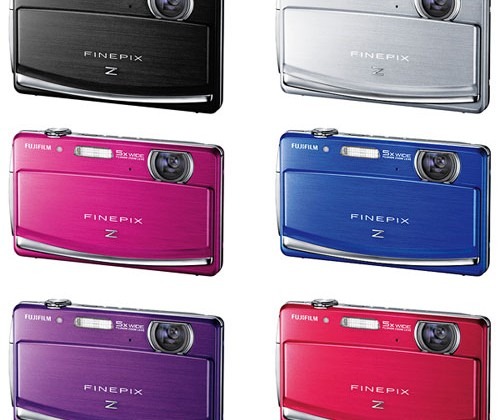 Fujifilm has unveil a new digital camera at CES called the FinePix Z90. The camera has a slew of very nice features like a 14.2MP image sensor, 5x optical zoom, and the ability to record HD video. The camera is aimed directly at fans of social media with an included YouTube/Facebook web upload facility.
The Z90 is the follow-up to the Fujifilm Z70 digital camera with a new larger 3-inch LCD that supports touch for navigating through the settings of the device. The camera has a svelte profile at 17.45mm thick making it easy to pop in a pocket and take with you on the road.
The HD video is recorded in 720p resolution and the camera can snap 1080p HD photos. The 5X wide-angle lens is a 28 – 140mm equivalent unit and it has a special Dual Direction GUI that will turn the menus to match how the user is holding the camera for photos. Fujifilm also has another new line of cameras called the JV and JX series.
The line includes the JV200 with 14MP resolution, 3X optical zoom, and face detection. The JV250 has 16MP resolution, 3X optical zoom, and face detection, the JX300 is a 14MP resolution unit with 5x optical zoom and face detection, the JX350 gets 16MP with 5X zoom, and face detection as well. The final new camera is the JX400 with 16MP resolution, 5X zoom, face recognition (one-step better than face detection).