Fujifilm Instax Share SP-3 instant printer is made for smartphones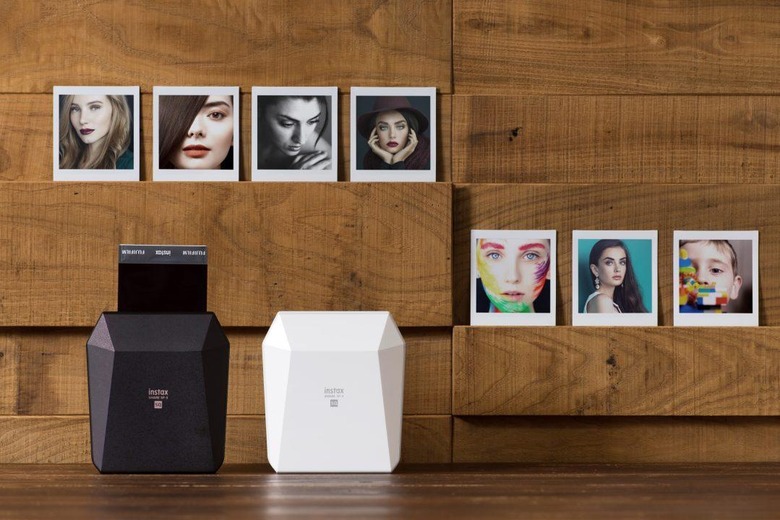 Forget firing up your laptop to print small physical photos of images taken with your smartphone. The newly unveiled Fujifilm Instax SP-3 instant printer is designed for smartphones, enabling users to snap an image with their handset and then instantly print them using the small, angular printing device.
This is the latest evolution of Fujifilm's Instax printer lineup, and it'll be available starting on November 17. The Instax SP-3 is able to print square-format instant prints with a 1:1 aspect ratio via the Instax SHARE app. Users can print images pulled from social media or photos that have been edited using a different image-editing app like VSCO.

Square format images have become more popular due to the rise of Instagram; you can think of these instant print photos as a physical copy of these Instagram images. Another feature includes a collage template for putting up to nine different images into a single photo. There's also a My Template feature that allows users to put text on their photos before printing.
As far as technical details go, the resulting photos have an SVGA 800 x 800 resolution with 318dpi. The software itself intelligently adjusts the images before printing, including choosing optimal brightness. The entire process, including printing, takes only about 13 seconds, according to Fujifilm.
The app supports both JPEG and PNG image formats. The printer, meanwhile, has a built-in battery able to power about 160 print cycles before needing recharged. The printer prints in RGB with 256 tones per color. Users will need to buy the Instax SQUARE Film, which is sold separately. The printer and smartphone connect together over 802.11b/g/n WiFi.
SOURCE: Fujifilm