Friday Smart Lock is a stylish, unassuming connected home lock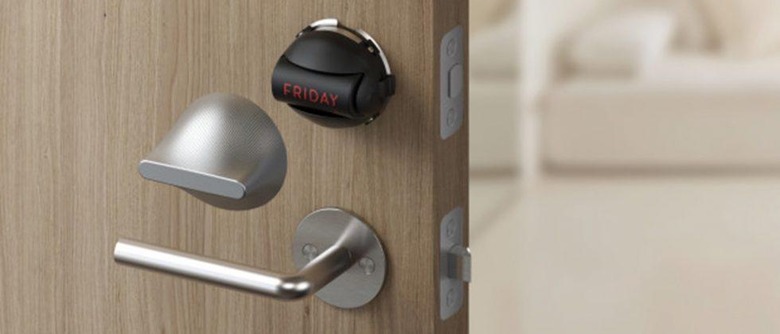 A new smart lock called 'Friday' has successfully finished a crowdfunding campaign, raising more than $175k to arrive on the market. The lock, like competing models, is designed to work with modern technology to take the hassle out of home security. The lock itself is minimalist and attractive, not readily standing out as a smart product. Despite its looks, though, Friday is capable of working with a home owner's smartphone for hands-free control.
The Friday Smart Lock works with both Bluetooth and WiFi and is controlled through a mobile app. Home owners can use it to set up access to a house remotely, granting guests the ability to enter the house during certain times via app. Owners have remote access over Friday and can grant anyone access on a varying basis, such as giving one person only one-time access and another forever access.
Access can be revoked by the home owner at any time, as well. This makes Friday, like some other competing products, a great option for individuals who are renting out a home or apartment, especially through services like AirBnB where key-based access is less than ideal. Visitors will be able to let themselves in, won't have future access, and the home owner can control the lock themselves whenever necessary.
Because guests are granted access individually, the individual who controls the lock can view activity logs from their phone using the app. The activity log shows who accessed the home and when. Friday is secured, meanwhile, using AES-CCM cryptography, among other unspecified standards. Finally, the lock does not require any permanent modifications to the door, with the team behind it saying that installation takes only a few moments.
SOURCE: Indiegogo