Fossil Q hybrid smartwatches add Crewmaster, Nate, Gazer, Tailor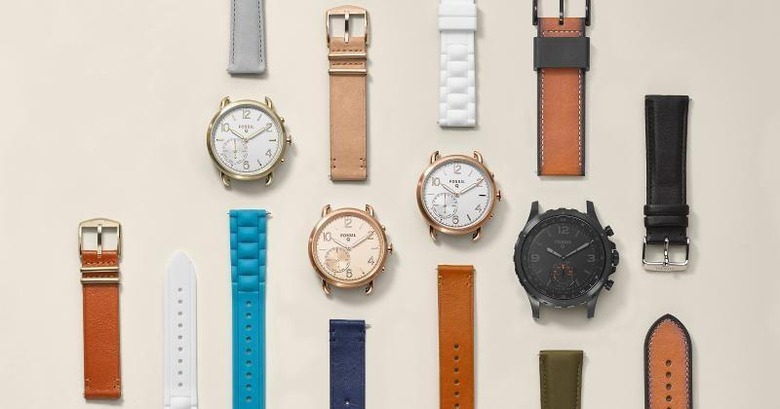 With most manufacturers seemingly taking a break from the smartwatch scene, with the exception of Samsung and ASUS (and soon Apple), traditional watch and accessory makers are stepping in to fill in the gap. In fact, fashion brand Fossil has a total of 8 new pieces to show off, under 4 new "hybrid smartwatch" models. The new Fossil Q Crewmaster, Q Nate, Q Gazer, and Q Tailor aim to offer most of the conveniences of smartwatches and fitness trackers while still remaining the classy and simple timepieces that most people are comfortable wearing.
First, a word about Fossil's "hybrid smartwatch" products. There are not your traditional smartwatches. They are, perhaps, better described as analog fashion watches with smart capabilities. That means no digital display, no touch screens, no Wi-Fi, but, of course, with Bluetooth. While the more tech savvy might feel that the Fossil Q hybrid smartwatch falls short in terms of tech, for Fossil, it offers the best compromise between analog and digital.
That's mostly because these smartwatches can still do most of the things that smartwatches can do, sans th touch display and visual feedback. There's activity tracking, including sleep, alarms, and notifications, which are delivered through vibrations or spinning minute or sub-eye hands. A physical button is dedicated to quick access to some smartphone functionality, like ringing a paired smartphone, taking a photo, or controlling music. As it takes less power to drive these features, the Fossil Q can last up to 6 months on a regular coin cell battery.
Fossil splits up the four new Q hybrid smartwatches between for the ladies and for men. Of course, it's a rather arbitrary distinction and buyers can choose to suit their tastes or the size of their wrists.
The Fossil Q Crewmaster is perhaps the largest of the four and is also the most rugged, with a strong stainless steel case but still colorful design to accompany users in their workouts and everywhere else.
The Fossil Q Nate is made for "weekend warriors", Fossil's term, with a rather unique spin on urban design.
The Fossil Q Gazer is meant for ladies supposedly, but it will fit anyone who prefers a slim watch dressed up in crystals.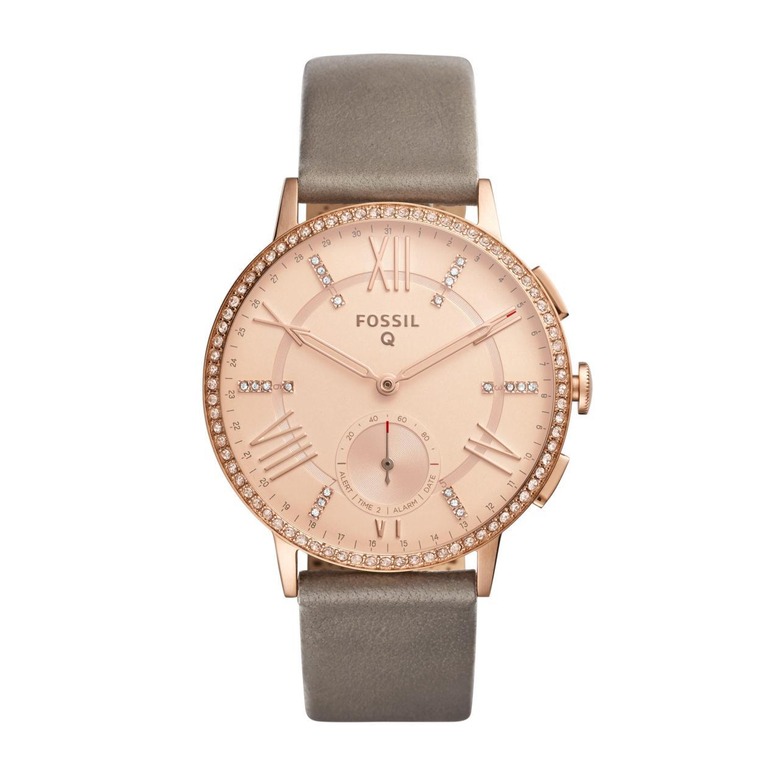 Finally, the Fossil Q Tailor embraces anyone and everyone with three different designs and luxe colored straps, though Fossil describes it as a classic, feminine look.
All four Fossil Q hybrid smartwatches are compatible with Android smartphones running 4.4 KitKat or higher and iPhones running iOS 8.2 and later. Prices start at $175 and pre-orders begin September 14. The smartwatches land in Fossil stores on 26th September.