Forza Horizon April Top Gear Car Pack Now Available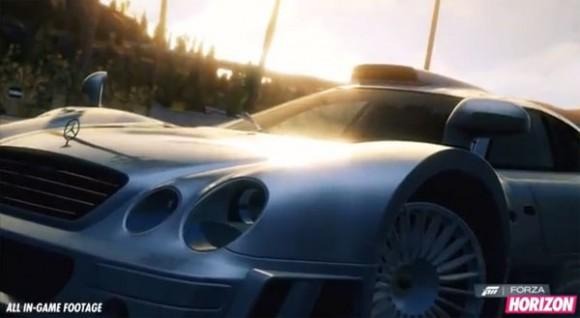 If you're into cars, racing games, and the Xbox 360 you probably play Forza Horizon. The latest download content pack for the game is now available with six cars in the April Top Gear Car Pack. All six cars in the pack were selected by the Top Gear Magazine team and Turn 10 Studios developers.
The car pack is available now on Xbox Live for 400 Microsoft points. Players that purchased a Season Pass will get the April car pack at no cost. This car pack includes some very interesting vehicles, and one that's really strange. The really strange vehicle is the 2011 Ford Transit SuperSportVan. That van features a 3.2-liter 198 hp engine and the actual vehicle was a one-of-a-kind design unveiled at the 2011 Commercial Vehicle Show in Birmingham UK.
One of the coolest cars in this download pack is the 1998 Mercedes-Benz AMG Mercedes CL K GTR. Another vehicle in the pack is the 2012 Aston Martin Vanquish featuring a 565-horsepower V12 engine. Fans of off-road vehicles in the game can try out the 2012 Bowler EXR S.
The real world vehicle was a brand partnership between Land Rover and Bowler. The all-terrain vehicle has a supercharged 5.0-liter V8 and a top speed of over 150 mph. The 2011 Alfa Romeo tZ3 Stradale Zagato is also featured packing a 8.4-liter V 10 engine. The final car in the pack, which also happens to be a free download, is the 2002 BMW M3-GTR. You can download this car pack right now.
[via Forza]