Fortnite's leaked Drum Shotgun appears in gameplay footage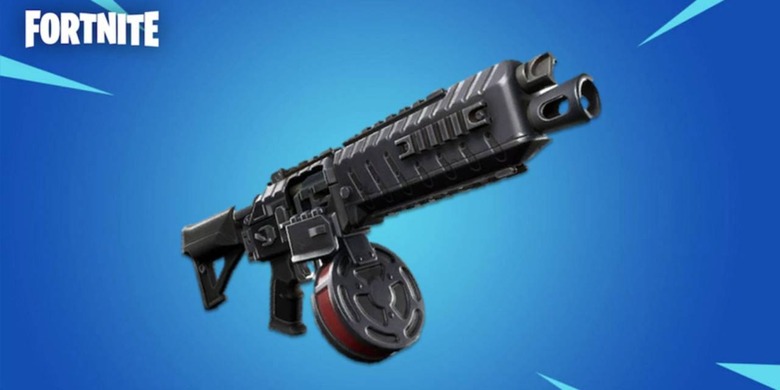 Earlier this week, a new Fortnite weapon called the Drum Shotgun appeared in a leak, revealing Epic's apparent plan to boost the variety of shotguns in the game. A few days later, a new leak gives players what may be their first look at the weapon via new gameplay footage. Assuming what we've seen so far is accurate, players may enjoy this release.
The Drug Shotgun is the first substantial Fortnite leak we've seen in a while — it appeared on Twitter from game leaker 'Lucas7yoshi' who indicated the weapon will arrive in grey, green, and blue variants. Based on the leaked design, the Drum Shotgun looks very familiar, offering a cross between the newly returned Drum Gun and the Heavy Shotgun.
bruh pic.twitter.com/6OObjzbG60

— Lucas7yoshi – UEFN Fanboy (@Lucas7yoshi) June 18, 2019
Following that initial leak is a new tweet from Fortnite leaker 'KrispyLeaks' — it includes actual gameplay footage showing the drum gun in a Playground map. The animations and sounds in the footage aren't accurate, according to the tweet, because the leaked style was swapped with the existing tactical shotgun.
No details about the weapon have been provided in any leaks, but we can make some assumptions based on the image. The drum indicates the shotgun may hold far more shots than the Tactical Shotgun model, and it may fire at a more rapid pace. It's possible Epic may be planning to replace the current Tactical Shotgun with the new Drum Shotgun.
Doing so would likely mean players get a more powerful rapid-fire alternative that'll compete with the new, and somewhat controversial, Combat Shotgun. If the new shotgun can fire very rapidly, it'll likely also take a hit to accuracy, but ultimately prove useful for 'spray and pray' players who are frustrated by the game's current lack of shotguns.