Fortnite World Cup in-game view lets gamers keep gaming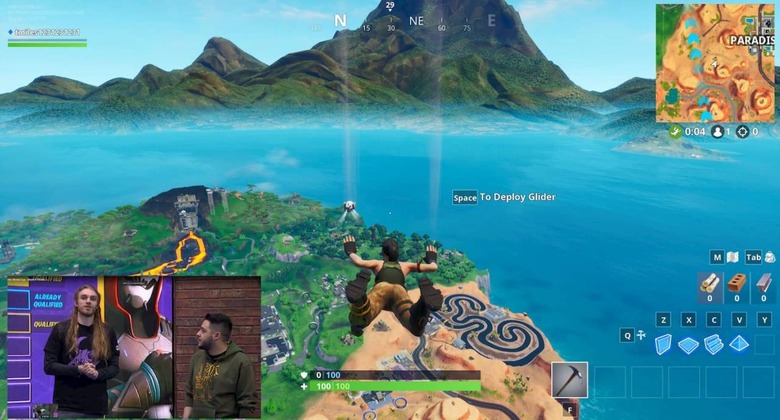 The Fortnite World Cup finals are coming up this weekend, and if you're trying to make the choice between watching those matches and actually playing the game yourself, you probably aren't alone. The good news is that you don't actually have to make that choice, as Epic is flipping the switch on in-game World Cup streaming in Fortnite. That means you can watch the finals while in the game, even as you're playing matches.
By default, Epic will show the World Cup stream in the lower left-hand corner of the game, and while it might obscure some action, it shouldn't cover up any important details about your character. You can turn it off by closing the video in the lobby, or if you're in a match already, opening up the main menu and clicking the "Stop Video" button that appears there.
If you turn it off but decide to that you want to watch it again later, you can turn it again by clicking the "Watch In Match Start Video" button from that same in-game menu. It's worth noting that when you're playing the stream in-game, you'll hear audio from the stream as well as audio from your own match, so that might make it difficult to focus on the game you're playing and presumably trying to win.
If, on the other hand, you want to watch the stream separately, there are a variety of different places to watch. The best place would probably be on the official Fortnite website, though Epic will also be streaming the finals on YouTube, Twitch, Facebook, Mixer, and Caffeine.
In short, if you're looking to watch the Fortnite World Cup finals, there will plenty of ways to do just that, even if you want to play as you watch. You can find the full schedule for this weekend's tournament over on the Fortnite website, with the finals kicking off at 9:30 AM Eastern on July 26th.