Fortnite V7.40 Patch Notes: Driftboards, Two New LTMs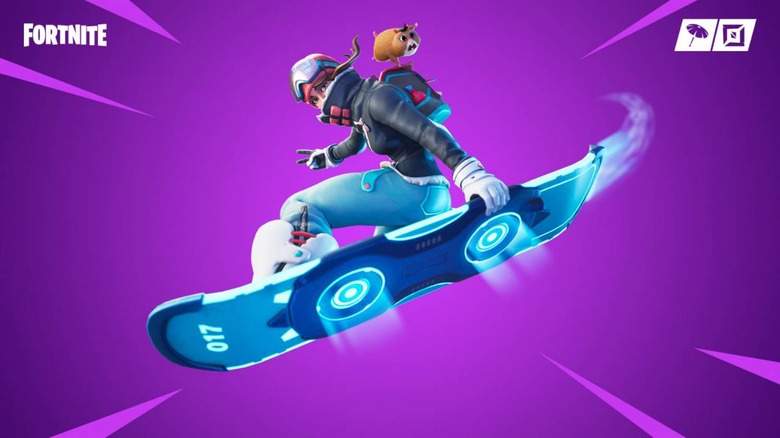 Just as Epic announced yesterday, Fortnite's v7.40 content update went live this morning, bringing the long-awaited Driftboard along with it. The Driftboard was originally scheduled to go live back in December, but Epic decided to push back its launch at the last minute to make some quality of life changes. After a couple of months of waiting, players finally have the chance to glide around on the Driftboard.
Epic's patch notes for v7.40 explain that the Driftboard is a limited time item, so don't expect it to be around for very long. You'll have plenty of chances to try one out though, because not only has it been added to the main battle royale mode, but it's also the star of a limited time mode called Driftin'.
Driftin' pits two teams of 32 players against one another and removes all chests and ammo box spawns. Instead, you and your teammates will be looting red supply drops, which will fall all over the map. Within each one, you'll find a Driftboard along with random weapons and ammo. From there, it's basically your standard big team match, though it is worth pointing out that you'll slowly regenerate shields and health while you're riding your Driftboard.
In the standard battle royale mode, you'll find Driftboards scattered all around the map. You can shoot, use consumables, loot items, and revive downed allies while you're riding the Driftboard, but you won't be able to build, so don't engage in a close range fight until you're back on foot. The Driftboard also has a boost function, so it sounds like it'll be a handy item for map traversal as well.
Finally, there's a second LTM called Catch! being added with this update. In this mode, there are no gun spawns, and the only weapons you'll find are ones that can be thrown. Specifically, you'll only have Smoke Grenades, Clingers, Remote Explosives, Port-a-Forts, Impulse Grenades, and Shock Grenades at your disposal, so hopefully your aim with thrown items is on point.
Though the Driftboard is billed as a limited time item, Epic doesn't say when it'll be leaving the game, so make sure to take it for a spin while you have the chance. You can read more about Fortnite's latest update in Epic's full patch notes, but aside from the additions of the Driftboard and these two LTMs, this is a pretty slim update for battle royale players.