Fortnite v4.2 patch notes have landed: Here's what's new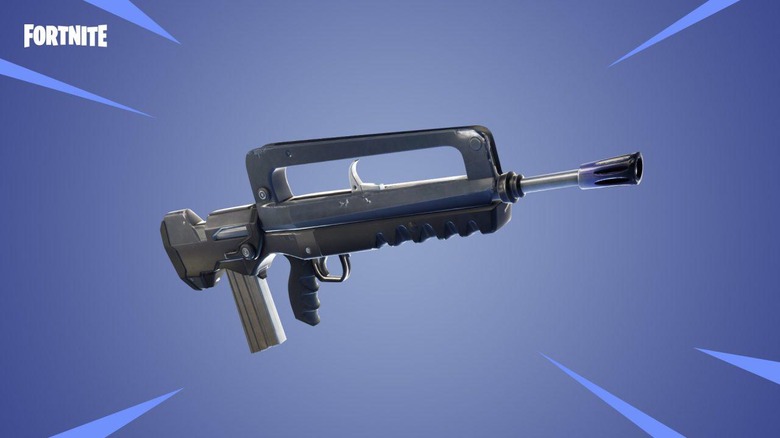 After a brief delay, Fortnite's weekly update has landed. This week, the update brings Fortnite to version 4.2, and while this patch may not be quite as big as some of the ones we've seen in the past, there are still a few new additions worth checking out. These additions include a new weapon and a new way to restore health.
As many players already know, Fortnite v4.2 adds a new burst assault rifle to the game. This new gun drops in epic and legendary rarities, and it can be found pretty much everywhere, whether it spawns as floor loot, in a chest, in a supply drop, or in a vending machine. Epic has been teasing this gun on the Fortnite lobby screen for a couple of days now, so its addition in 4.2 isn't much of a surprise.
Perhaps more interesting is Fortnite's new health item: apples. Apples will randomly spawn around certain trees in the game, and each one restores 5 health, up to 100. Therefore, if you're injured and you don't have a medkit on hand, finding a few apples could be a quick and easy way to get back up to full health.
Aside from those two additions, version 4.2 makes a few tweaks to existing weapons. The suppressed machine gun in particular has seen a lot of changes, receiving a buff to its damage and its accuracy reset speed. At the same time, Epic has increased the damage fall off range, so it should be a fair bit more deadly from here on out.
Add to that some slight tweaks to damage traps and remote explosives, and we've got ourselves a patch. Now that version 4.2 has been applied, all week 3 challenges should be functioning properly as well, so you can now work toward completing those and upgrading your battle pass. Version 4.2 is now live in Fortnite, and you can read Epic's full changelog over at the official Fortnite site.