Fortnite v13.40 update adds four different cars to take on a joy ride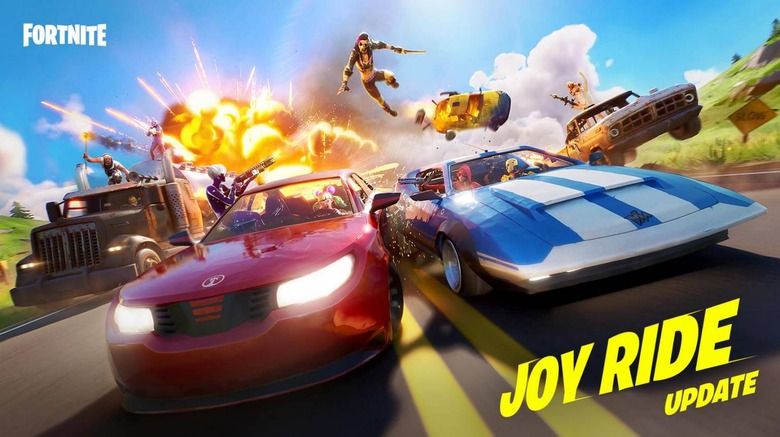 Throughout the years, Fortnite has been home to a number of vehicles that help players get around the map. The game's vehicle roster started with the humble shopping cart, but over time, it grew to include vehicles like armored quads, biplanes, golf carts, and even mechs. Despite all of these vehicles, we've never seen an actual car in the world of Fortnite, but that all changes today.
Fortnite's new Joy Ride update is going live today, adding a grand total of four cars to the game. You'll find these vehicles scattered throughout the map, and Epic says that as long as they aren't booted, you only need to get in and drive off. The four cars being added include the Islander Prevalent, the Victory Motors Whisplash, the OG Bear, and Titano Mudflap.
The Islander Prevalent is described as "the spirit of responsibility," and indeed, it's easily the least cool car of the bunch. The Victory Motors Whiplash is more of a sports car, while the OG Bear is a pickup truck that seems primed for some off-roading. Finally, the Titano Mudflap is a semi truck that's particularly well suited for thundering across the landscape.
Even though anyone can take one of these cars for a spin, you won't have an entirely carefree joy ride, as you'll periodically have to stop to fill up your car with gas. That can be done either at a gas station or by using a throwable gas can that drops as loot; if you have to resort to using the gas can, you can fill them up again once you find a gas pump. Just be cautious when you decide to stop at a gas pump, because we imagine those will be hot spots for combat.
So, in an instant, Fortnite went from having no cars to having four. The cars are available today as part of the version 13.40 update, so once you've installed the patch, drop in and see if you can find one of these new cars for yourself.