Fortnite Season X challenges explained: Limited-Time and Prestige missions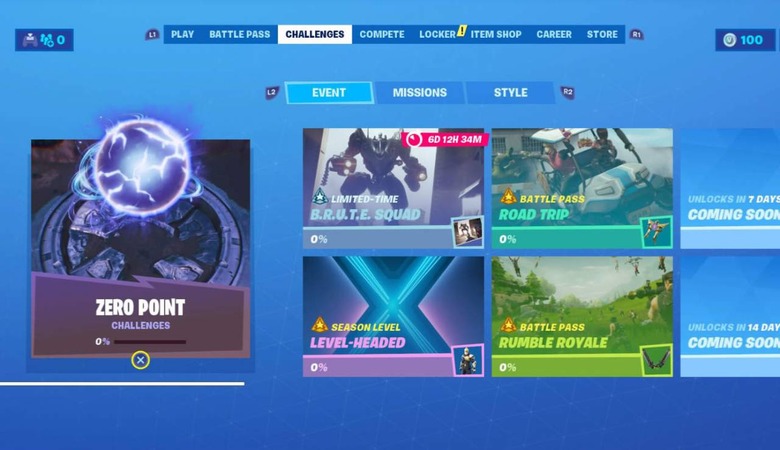 Until now, Fortnite has presented its Battle Pass missions in 10 weekly batches alongside daily challenges. Big changes to the game's progression system arrived with today's season 10 update, however, introducing Missions. What are Limited-Time Missions? How do you unlock Prestige missions? What happened to daily challenges? We've got the answers.
Battle Pass owners will recognize a somewhat familiar weekly missions schedule kicking off with four available missions: B.R.U.T.E. Square, Road Trip, Level-Headed, and Rumble Royale. Each mission features a number of objectives that, when unlocked, reward the player with Battle Stars, experience points, and other items. As expected, Battle Stars are used to tier up in the Battle Pass.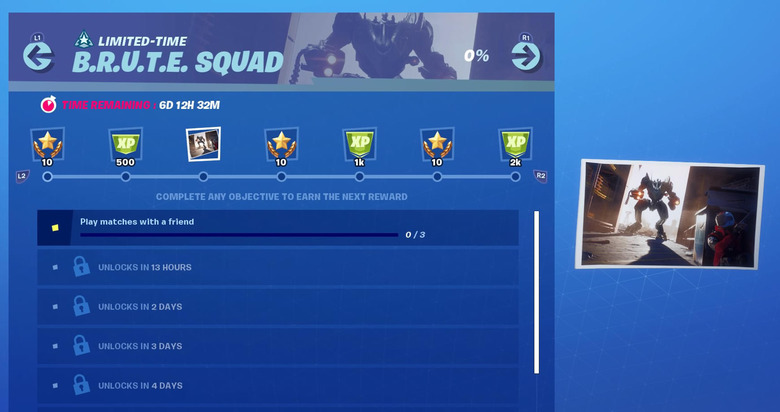 On the objectives screen, players will note another option toward the bottom of the list that says 'View Prestige.' Clicking this option presents the player with another list of Prestige-tier objectives, assuming they've Prestige'd the mission by completing all the objectives in it. These Prestige-tier objectives give players additional chances to earn rewards and keep themselves entertained.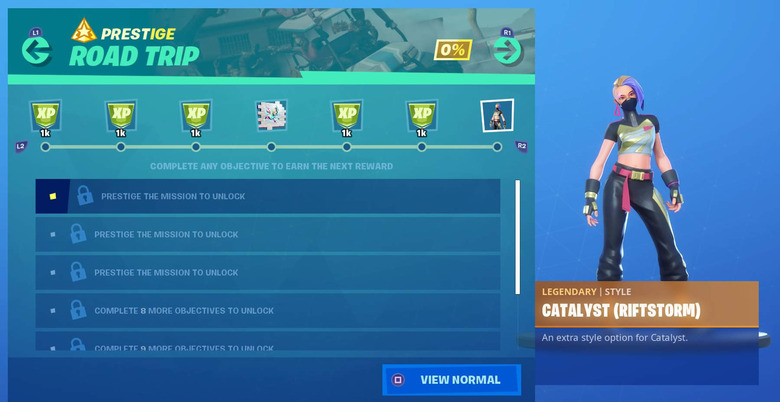 The Prestige challenges are similar to the basic-tier objectives but will require more work to unlock. Assuming you manage to complete these harder objectives, you'll be rewarded handsomely for your effort.
There's an exception to the Prestige missions, however, and they apply to Limited-Time Missions. B.R.U.T.E. Squads is a Limited-Time Mission as evidenced by the timer countdown on the mission page. These Limited-Time Missions do not feature Prestige tiers because of the limited amount of time available — players simply wouldn't have enough time to unlock all of the Prestige variants for these objectives.
The Limited-Time Missions are free for all players to access, but the permanent missions like 'Rumble Royale' are limited to Battle Pass players. On the FortniteBR subreddit, an Epic employee explained how the Limited-Time Missions work, saying, "Limited Time Missions are the replacement for Dailies and they'll release at 9 AM ET, they will count for all past Challenges requiring dailies and will not require the Battle Pass."
It's clear that Battle Pass players are favored by this system, which is ultimately a great way to tier up the Battle Pass quickly, but with additional earning options on top of it. Players who are able to quickly complete objectives will find the Prestige challenges extra rewarding and, hopefully, Fortnite to be more satisfying overall as a result.
However, free and casual players have raised concerns over whether the new challenges system will ultimately slow down their progression, requiring them to buy tiers to reach Tier 100 before the season ends.