Fortnite Save the World loot boxes will be transparent in v7.30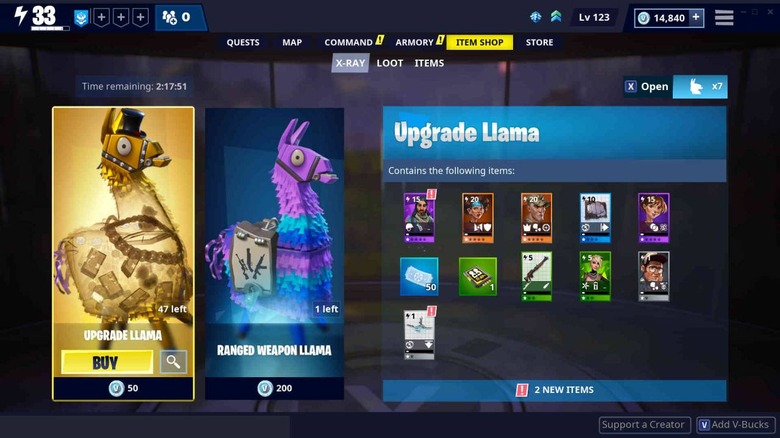 Epic has announced big changes to the way its loot boxes work in Fortnite's Save the World mode. Until now, the game offered players V-Buck Llamas, which were llamas that contained items in exchange for the in-game currency. Players were "blind" to the llamas' items, but Epic is changing that with X-Ray Llamas — that is, loot boxes that show what's inside before the player purchases them.
So-called loot boxes — which in Fortnite are actually llama pinatas — offer players items, usually in exchange for real-world money or currency that can be purchased with real-world cash. The catch, in most cases, is that players don't know what's inside of the crate before they buy it, resulting in many criticizing this typical in-game element as a type of gambling.
Epic has called its "Save the World" loot boxes V-Buck Llamas, but the new transparent version has been renamed the X-Ray Llama. Players can select one of the available purchases and see everything it offers, enabling them to make an informed decision about whether it's what they want. By taking a peek, some players may be less likely to give in to the temptation of wanting to know what they're missing by buying boxes they don't need.
The new llamas keep the same price as the previous version and they can still be earned with gameplay. The llamas likewise offer content based on what the player already has, which avoids offering players duplicate items.
In addition, Epic says that players won't be able to buy more than one V-Buck Llama at the same time. By restricting this, players see the items within each item they plan to purchase, ensuring there are no blind buys. The llamas found in-game are still a surprise, though, and won't reveal their contents. The change will take place in update version 7.30.