Fortnite 'Robot Factory' leaks in Week 10 challenges and new Fortbyte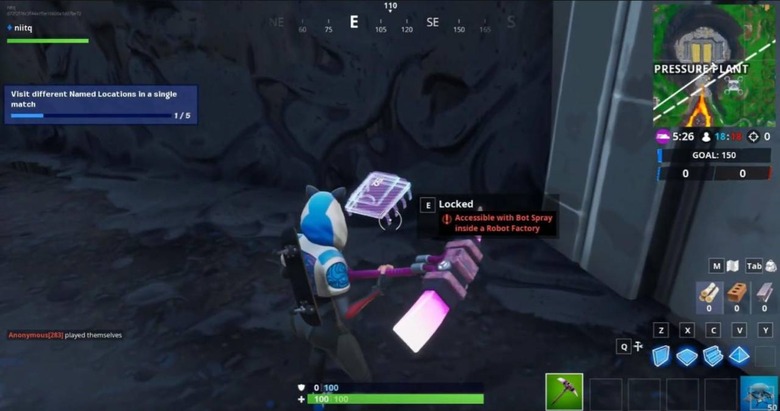 Speculation over the 'Pressure Plant' in Fortnite is vast, and as the season progresses, fans increasingly expect the destination will play a role in the game's overall storyline. Thanks to two different leaks that surfaced within hours of each other, we now know what to expect from the landmark that was once home to a giant smoldering volcano.
Based on a Fortbyte that recently went viral and a leak from known dataminer Lucas7yoshi, it appears the destination currently known as the 'Pressure Plant' will soon be opened up, revealing a new location called the 'Robot Factory.' The name is listed on a Fortbyte that was spied in the game's Pressure Plant point of interest, and it also appeared in leaked Week 10 challenges.
The Pressure Plant appeared following the volcanic eruption that ushered in the current game season. This plant has progressed nicely over past weeks, shifting from a glorified construction site in the crater to what it is now — a smooth, clean industrial zone with no obvious purpose.
The name Pressure Plant implies the destination is some sort of utility zone that, within the context of the Fortnite universe, would be used to generate power. However, the destination may actually be hiding a robot factory, and those robots may have a role over the next couple of weeks.
Redditor 'HeyStan' shared a screenshot of a Fortbyte located in the Pressure Plant on Reddit earlier today. The Fortbyte reads: "Accessible with Bot Spray inside a Robot Factory." At this point in time, obviously, there are no robot factories on the island. Around the same time the image was shared, dataminer Lucas7yoshi shared a leak of the Week 10 challenges that include, among other things, mention of a Robot Factory:
— Lucas7yoshi – ??? something. maybe (@Lucas7yoshi) June 27, 2019