Fortnite Faction Wars Event leaks: Shadow and Ghost will fight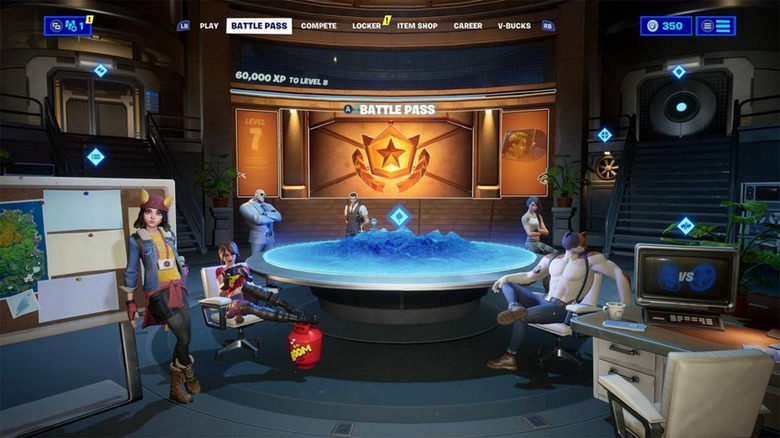 The arrival of Fortnite Chapter 2, Season 2 brought a new Battle Pass interface that includes a retro computer with a teaser. It's unclear what this computer hides; it says that something is 'coming soon,' but there are no details about what players can expect. That may change soon, though, based on a new leak revealing an upcoming 'Faction Wars' event.
The latest iteration of Fortnite features two different opposing teams: Shadow and Ghost. Players must choose which of the two teams they prefer once they unlocked the Brutus skin, which starts out as a generic man in a suit before the player chooses the team they want.
The computer found in the Battle Pass screen shows the Shadow and Ghost logos, as well as a large 'VS,' indicating that the two teams will battle at some future point. That battle may be called 'Faction Wars,' based on a new leak from FireMonkey, and it may require the players to enter the fight from the computer.
#Fortnite Faction Wars Event Leak:#TeamGhost or #TeamShadow? Pick your team from the PC and fight to upgrade your Faction intel level!

This Faction v Faction event isn't your ordinary event, as you can switch factions any time you want!

— iFireMonkey (@iFireMonkey) February 29, 2020
The leak claims that players will need to choose which team they will fight for when they start the battle, which will reportedly be used to upgrade the player's Faction intel level. This would make the new event distinctly different from a Limited Time Mode, which isn't inherently linked to the Battle Pass and storyline.
The leak claims that players who reach a higher Faction level will get a greater reward as a result. The computer will be the player's portal to see their Faction Tier and their related Rewards. Players will also reportedly have the option of switching which team they fight for. The leak indicates that this mode will not be available in the next update.