Formula One team breaks world record for fastest pit stop ever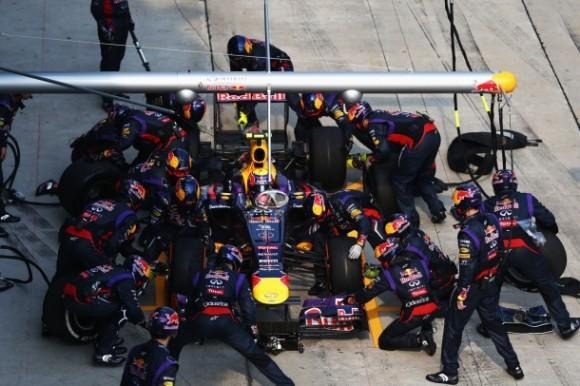 If you've ever seen a Formula One pit stop, you'll know that the pit crew can change all four tires on a Formula One car in just a few seconds. However, during the 2013 Malaysian Grand Prix, Infiniti Red Bull Racing
for the fastest Formula One pit stop ever, changing all four tires in just 2.05 seconds.
Previously, McLaren held the world record for the fastest pit stop at 2.31 seconds, but Red Bull Racing says that they broke that record five times during the race, setting a new world record of 2.05 seconds during Mark Webber's second pit stop on lap 19. In fact, the slowest pit stop for the team during the race was an insane 2.26 seconds.
Red Bull says they get these times from the car's own data logs. Essentially, these data logs provide a more accurate account of pit stop times than TV stations estimates, and while the team sometimes uses those rough calculations, the more-accurate times come straight out of the race car's data logs.
However, the sub-2-second pit stop is on every Formula One team's mind right now, and as Red Bull puts it, there's no "perfect" pit stop, and any racing team can do better. There's always a quicker pit stop to be made, and Red Bull says that "it's possible this season we'll see the magical two-second barrier breached at some point."
It's pretty incredible how fast pit crews can change the tires on Formula One cars, but it makes sense. A Formula 1 pit crew consists of a lot of crew members, and usually there's three crew members to a tire, meaning that one person is in charge of taking off and putting back on the tire nut with an air wrench, while another crew member takes the tire off and the other puts a new tire on. Teams practice pit stops religiously, to the point where changing tires is a science that requires ultimate precision and timing.