Forget Google Maps: This glowing Compass Stone is straight out of anime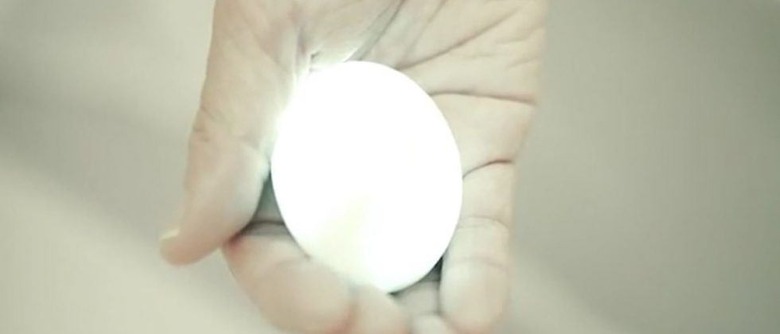 A new product called Compass Stone has arrived on Kickstarter, and it's looking to change the way we use our phones for GPS navigation. The idea behind Compass Stone is simple: people should be looking up when traveling to their destination instead of staring at their screen the entire time. The way Compass Stone looks to accomplish this goal is interesting, to say the least.
Compass Stone is an egg-shaped device you hold in the palm of your hand. Produced by a Japanese company called YEAAH and supported by K&L Inc. for this Kickstarter campaign, Compass Stone is outfitted with 12 LED lights. Using these lights, Compass Stone guides you to your destination, which you'll enter into the YEAAH app.
When you're near your destination, the lights on Compass Stone will begin to flash, and when you've arrived, they'll rotate around the device. This means that, in theory, you can use the Compass Stone as your only means of navigation, only ever taking your smartphone out of your pocket to input your destination.
The Compass Stone's navigating prowess is based on an algorithm called "YATAGARASU." With this algorithm, Compass Stone "calculates the direction to a goal based on the alignment of the device," and doesn't need a persistent WiFi or mobile data connection to work. Once you've entered your destination in the app, you're free to venture into an area with poor internet or cellular coverage, and Compass Stone will continue navigating.
You can also use the 12 LED lights to tell the time. Two Compass Stone LEDs will emulate the hands on a clock, with the light indicating the minute hand flashing so you can easily tell the two apart. Functionality of the Compass Stone is limited to these two modes, so simplicity is indeed the name of the game here.
Compass Stone was designed to have something mystical feel to it, with YEAAH likening it to Levitation Stone from Hayao Miyazaki's wonderful movie Howl's Moving Castle. At the time of this writing, the Compass Stone has raised €3,167 of its €45,000 goal, with 35 days left to go on the campaign. You can find the Kickstarter campaign by following the source link below, but prepare to shell out a fair amount of money, as you'll need to make a pledge of at least €89 to get one.
SOURCE: Kickstarter