Ford's new 7.3-liter Super Duty truck V8 rated best-in-class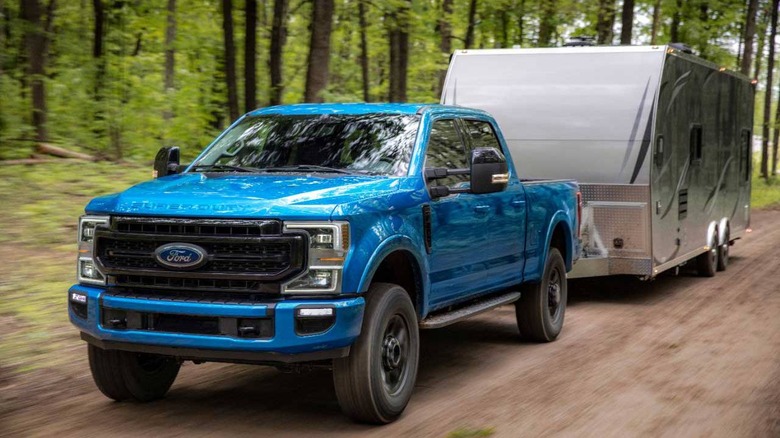 Ford said when it announced the 2020 Super Duty trucks that the trucks would be getting a new gas V8 as an option in some models. The new V8 is the 7.3-liter "Godzilla" engine, and while Ford was mum about the details of that engine when it first talked about the new engine, the details have now been unveiled. Ford says that the all-new 7.3-liter gas V8 engine cranks out the best-in-class horsepower and torque ratings for gas engines.
The 7.3-liter V8 engine makes 430 horsepower and 475 pound-feet of torque. The big V8 will be paired with an all-new 10-speed heavy-duty TorqShift transmission that is designed for robust power, long-term durability, and ease of service for Super Duty owners who work and play in the trucks.
Ford says that the 7.3-liter V8 can deliver its class-leading performance in a compact package. Ford has stated in the past that the massive V8 would fit inside the much smaller Mustang, but it has no plans to put the engine there. The V8 has an overhead valve architecture that generates power in the low rpm range to get heavy loads moving more quickly.
Ford fits the engine with a variable displacement oil pump, extra large main bearings, a forged steel crankshaft for durability, and piston cooling jets to manage temperatures under heavy loads. The Super Duty line now includes the 6.2-liter gas V8, all-new 7.3-liter gas V8, and the 6.7-liter PowerStroke diesel V8.
The Ford F-250 and F-350 trucks will have the 6.2-liter gas V8 as the standard engine, with the 7.3-liter gas V8 and the diesel as an option. The F-450 chassis cab, F-550, F-600, F-650, F-750, F-53, and F-59 will all offer the 7.3-liter V8 as standard. However, those trucks will have a version making 350 horsepower and 468 lb-ft of torque. The commercial truck models will continue to use the TorqShift heavy-duty 6-speed automatic.