Ford Will Let Amazon Deliver Packages Into Cars For Safekeeping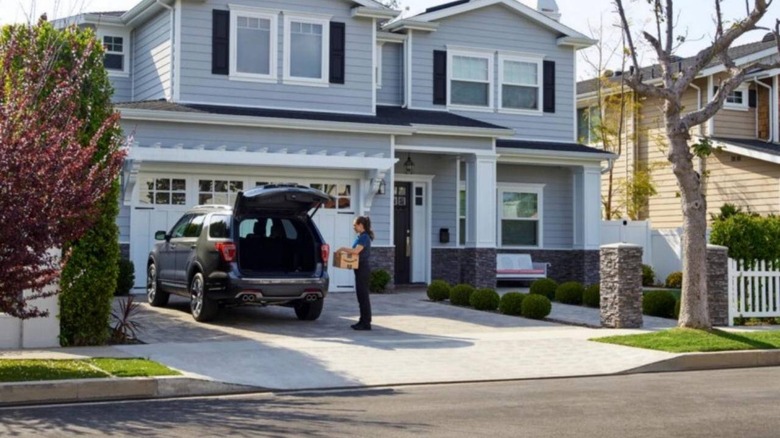 Not too long ago, Amazon made the almost scandalous announcement that it would be letting its couriers into houses via its Amazon Key system. Then this year, it expanded that to garages and finally to cars. Fortunately, the rollout of Amazon Key has been relatively uneventful and companies are, in fact, siding with the retail giant. The latest to join that club is Ford, who will allow select models to become your mailbox to keep your package safe, while hopefully also keeping your car safe.
It may almost sound laughable until you consider how many packages are stolen simply because they are left by the door. YouTube is filled with videos of such thievery as well as the creative and sometimes cruel ways homeowners try to get back at packagenappers. While carjacking isn't uncommon either, those are probably less likely to happen in front of your home.
In that context, it does almost seem like turning your car's trunk into a mailbox is the surest way to safeguard large packages. Amazon thinks so, too, which is why it launched the Key by Amazon In-Car service as a free service for Prime users. Of course, you'll need specific car models for that and the launch roster was limited to just a few.
Ford is proud to be the latest member of that few, bringing some of its Ford and Lincoln cars for the ride. Specifically, Prime users with a 2017 or later Ford cars equipped with FordPass Connect as well as 2018 or later Lincolns with Lincoln Connect are considered eligible. They just need to download the Amazon Key mobile app, link their Amazon Prime account with their FordPass or Lincoln Way account, and wait for their trunks to fill up with packages.
Ford says that Key by Amazon In-Car delivery is just the tip of the iceberg. It is, in effect, inviting other business to also integrate with its connected cars. Next on its list is to give car owners the option to purchase eco-friendly car wash services when and where they're available.