Ford uses optical illusion stickers to hide its car designs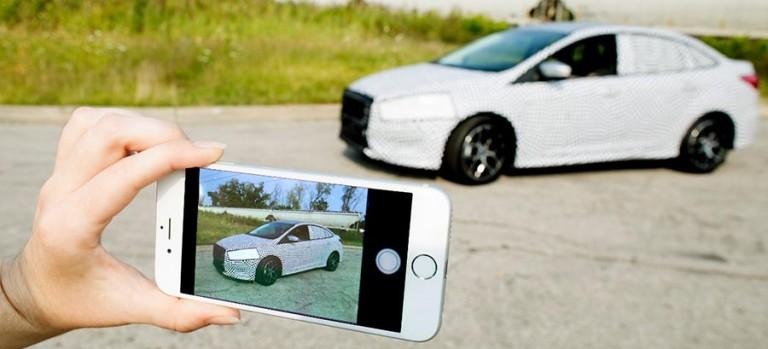 Auto makers use various types of camo to hide cars they need to test on the road but don't want the public to see. On Thursday, Ford detailed the type of camouflage it uses and gave a behind-the-scenes glimpse of the camo being applied. In this case, Ford is now using a special "sticker camo" that is stuck directly onto the car, though it says it is still using vinyl cladding in "a small percentage" of its tests.
The camo, of course, is designed to keep the car's design a secret while it is still under testing. Keeping a car's design secret becomes harder as the number of cameras in nearby pockets grows. Black vinyl, which Ford calls "unsightly," has traditionally been used to shroud a vehicle, but Ford has turned its sights toward vinyl stickers, which are designed in such a way that the camo pattern obscures most details in the resulting photographs.
As you can see in the video above, each sticker is circular and has a slight 3D effect that makes it appear as if the stickers are rounded outward slightly. This is an optical illusion purposely designed to obscure the vehicle's own details. The stickers offer other features over cladding, as well; they are universal, for one thing, and can be used on any vehicle sans modification.
These stickers are also faster to install because they don't require any specific application system — just peal and stick, overlapping as needed. They're also said to be more durable than vinyl cladding, they don't trap heat against the car, and they're lighter weight, allowing for more accurate testing (cladding could mess with a car's aerodynamics, for example).
The stickers aren't Ford's only method for hiding its vehicle designs from the public, though; the auto maker also says that it uses faux body panels in some cases to alter the actual shape of the vehicle. These panels can be used to make major design changes to a vehicle, transforming a sleek and slim coupe into a boxy station wagon, for example.
SOURCE: Ford