Ford unveils "Intelligent" charging system for plug-in hybrids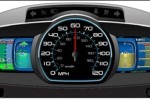 With the automotive market tanking thanks to the poor economy, the boom in auto sales thanks to the cash for clunkers program won't last much longer. After that, automakers will actually need cars that are affordable and appeal to buyers rather than big government incentives to sell more vehicles.
Ford is working hard, as are other manufacturers, on hybrid and electric vehicles to ease the need for gasoline and improve fuel efficiency. Ford has announced a new intelligent charging system for hybrid cars that allows vehicles to communicate with the electrical grid. The charging system allows the operator of the vehicle complete control of the charging system.
Using the new system the vehicle owner can choose when the car charges, how long it charges, and at what energy rate the vehicle will charge at. This will allow the user to charge electric and plug-in hybrid Fords during off peak times for less impact on the electrical grid and money savings. The system will first show up in the all-electric Transit Connect commercial van and then the Focus Hybrid in 2011.