Ford Unveils Fiesta ST Racecar For Global RallyCross Championship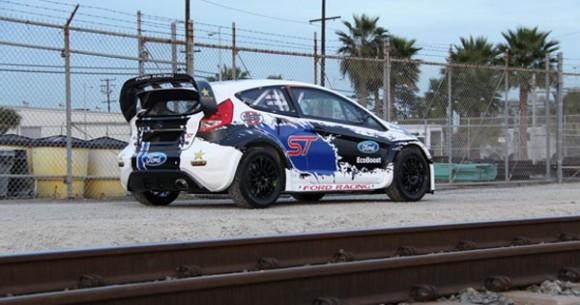 Ford has unveiled its latest racecar aimed specifically at the Global RallyCross Championship (GRC). The new racecar is an OlsbergsMSE-built Fiesta ST based off the production Ford Fiesta ST that will go on sale this summer. The racecar will be driven by Tanner Faust and Brian Deegan in the GRC series.
Ford says that later in 2013 Ken block will also compete in the GRC using his new Fiesta ST racecar. The racecar will be on display at the Chicago Auto Show this week. Ford also recently announced that it's the only automotive sponsor for the 2013 summer X Games.
Ford isn't offering up a lot of details on exactly how much power the Fiesta ST racecar produces. However, you can bet it's considerably more powerful than the street going version. It does use a turbocharged engine and will presumably be all-wheel-drive.
I'm sure we'll see Ken Block hooning the wheels off the car on YouTube before long. Ford has been very successful in the GRC winning manufacturer's championships in both 2011 and 2012. Ford expects more the same in 2013, whether or not that comes to be remains to be seen.
[via Ford]