Ford talks Focus ST Overboost engine technology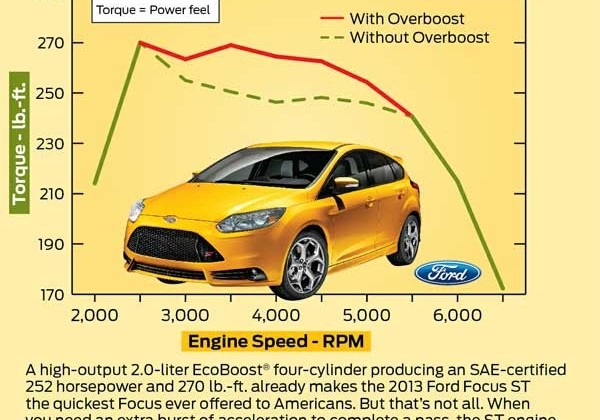 Later this year, Ford will launch the new Focus ST turbocharged hatchback in the US, making it the most powerful Ford Focus ever offered to Americans. The car has interesting Overboost turbo engine technology that puts a button at the driver's fingertips to get more power. Ford says Overboost is a lot like a turbo button in racing video game.
At the press of a button, Overboost expands peak torque for up to 15 seconds at a time to give ST drivers easier passing. The gains in the torque are from 3000 RPMs to 4500 RPMs. The ST will be the first Overboosted EcoBoost engine sold in the US. The image above has a torque map for the Focus ST with and without Overboost.
It appears that the car doesn't gain extra peak torque. You simply get more torque over the RPM range. The Ford Focus ST engine is rated for 252 hp and 270 pound-foot of torque. The engine is a two-liter EcoBoost four-cylinder.
"The turbo itself is specified for sustained, high-output performance, but they've programmed the car's computer to dial in more boost past 3,000 rpm to give it that extra something," says engineer Lisa Schoder, who is Marketing manager for Focus ST.

"We limit peak turbo boost to maintain a wide margin of safety and durability over the life of the car," Schoder adds. "But overboost is cool in that it tweaks more acceleration through the turbo for brief periods for performance-hungry drivers."