Ford GT configurator opens letting us lust after Ford's supercar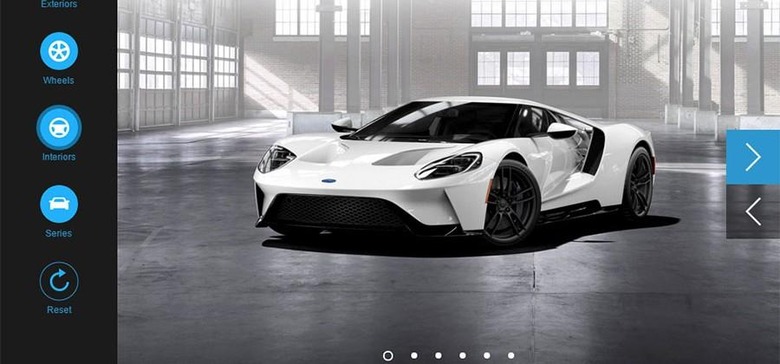 has been teasing us with the Ford GT supercar for a while now. The new GT has a racing version that has been hitting tracks around the world already and 500 folks that can afford a car that is expected to start at $400,000 will get the chance to own one. For we normal folks, as close as we will come to owning a Ford GT is playing with the car configurator.
That online configurator is now open and it allows us to configure the car exactly as we would buy it if we could. It also allows the 500 chosen buyers over the next two years to figure out what they want their car to look like and what options they want. There isn't much in the way of options, just interior and exterior color choices, wheel choices and a few other options are listed in the configurator.
You can choose from eight exterior colors with frozen white, shadow black, ingot silver, liquid grey, liquid blue, liquid red, triple yellow, and matte black. There are also eight stripe colors including white, black, silver, alloy, lightning blue, race red, and competition orange buyers can also order with no stripes. The front rear, and side lowers can be finished in shadow black, matte carbon fiber or gloss carbon fiber.
Wheel options include three 20-inch forged aluminum offerings and two carbon-fiber choices. Five different brake caliper colors can be chosen. There are four interior colors with weird names like dark energy, launch control, light speed, and re-entry. One bit of foreshadowing are two Series options that are listed as coming soon. Perhaps some special edition liveries are coming. I think I would go for the matte black with shadow black gloss stripes and gloss carbon fiber, that thing looks sinister.
SOURCE: