Ford Focus RS configurator goes live for those that like to customize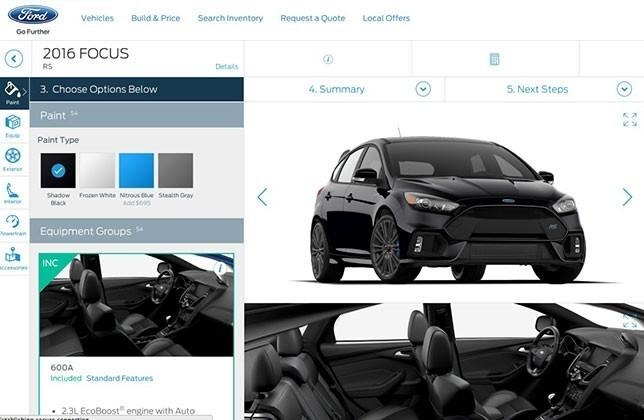 One of the great pass times of car guys and gals around the world is playing with the configuration websites that allow you to build up your dream cars without actually having to go down to the dealership. One of the hottest performance cars to wear the Blue Oval in years now has its configurator live and that car is the Ford Focus RS.
One glance at the configuration tool and you will notice there isn't much to it. That would be because there aren't many options for the car. You get to choose one of four colors, including the awesome Nitro Blue that is on the car in the image here. It looks just like Grabber Blue from the Mustang line to my eyes.
You can opt for full black leather or partial black leather for the seats. A special package with heated and powered front seats, heated steering wheel, heated mirrors, and Nav is offered that will tack $2785 onto the purchase price.
The only option I might want on my Focus RS is the Michelin Pilot Sport Cup 2 tires adding $595 to the purchase price.
The 19-inch wheel option is a $1395 purchase and you can get a sunroof for $895. If I were buying I would just go all base with 18-inch wheels for more tire options on the aftermarket. How would you equip yours?
Have a peek at the Ford Configurator yourself to see what it's all about.